View all news
Engineering student wins AIAA Harry Hilton Structures Award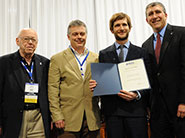 30 January 2014
Broderick Coburn, a final-year PhD student in the Centre for Doctoral Training in Advanced Composites for Innovation and Science (ACCIS CDT), has been awarded the prestigious Harry Hilton Student Paper Award in Structures at the 55th American Institute of Aeronautics and Astronautics (AIAA) Structures, Structural Dynamics and Materials (SDM) Conference.
Coburn won the award for his technical paper and presentation 'Local buckling of blade stiffened variable angle tow panels'. The paper forms part of a major research project led by Professor Paul Weaver on variable angle tow (VAT) composite structures.
The award is based on a two-step process whereby the technical paper is shortlisted following an evaluation and score by the Structures Technical Committee; the presentations of shortlisted candidates are subsequently assessed during the conference. The award, which came with a cash prize of $500, was announced and presented to Coburn at the conference reception.
Co-written alongside Professor Paul Weaver and Dr Zhangming Wu, the paper details the development of a robust analytical method to allow a deeper understanding of blade stiffened variable angle tow panels and a base for future design and optimisation of these novel structures.
Traditionally, composite structures are manufactured by stacking several straight fibre plies or layers to form a laminate. However, the advancement of tape laying and fibre placement technologies has led to the possibility of having VAT laminates whereby the individual layers that form the laminate can have a varying fibre orientation in the plane of a ply. These VAT laminates significantly open up the design space available to engineers, providing increased tailorability and potential for weight savings. Previous work within ACCIS has shown that VAT laminates exhibit significant improvements in buckling and post-buckling performance compared to conventional straight fibre laminates.
Working closely with Airbus and GKN as part of the ABBSTRACT2 programme, Coburn's work aims to exploit this enhanced buckling performance by applying VAT to aircraft wing skins.
Coburn said: 'The ACCIS CDT first-year taught component places significant emphasis on effectively communicating and confidently presenting research findings, and gives students training and guidance to develop these skills. As an ACCIS student, it is rewarding and incredibly motivating to receive this award, which recognises both the technical content of the paper and the presentation of the work'.
Further information
The utilisation of composites is growing at an unprecedented rate, as illustrated by the significant UK technological contribution to both the Boeing 787 and Airbus A350 with composite airframes, the need for rapid development of renewable energy (wind turbine blades) and the nascent interest in large scale production of automotive components by organisations such as BMW. Overall, industrial usage is within a period of exponential rise. Such exciting examples of new technologies require unprecedented interdisciplinary and multi-scale approaches.
The Centre for Doctoral Training in Advanced Composites for Innovation and Science (ACCIS CDT) was established in 2009 following a £7.1 million award from the UK Engineering and Physical Sciences Research Council. Its vision is to develop the next generation of technical leaders in advanced composites by stimulating adventurous interdisciplinary research, which bridges the length scales, connects to and interfaces between the disciplines of engineering, chemistry, physics and life sciences, and bestows enhanced and added functionality to composite materials.
Ten fully-funded studentships per year are offered on our four-year multidisciplinary PhD programme in Advanced Composites. The programme comprises a one-year innovative taught component and a three-year research project, and is underpinned by a programme of skills training and professional development. Students are recruited from a variety of academic disciplines across engineering, science and mathematics.
The centre benefits from significant industrial support, with current PhD projects being undertaken in collaboration with AgustaWestland, Airbus, dtstl, EOARD, GE Aviation, Haydale, Rolls-Royce and Vestas. It also collaborates with other academic institutions and research centres locally, nationally and internationally. Find out more about ACCIS CDT students and research at http://www.bristol.ac.uk/composites/dtc/