View all news
Bristol joins Intel Parallel Computing Center Program to collaborate on parallel computing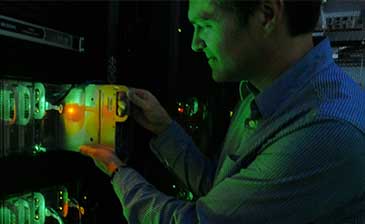 Press release issued: 28 January 2014
Modern computer systems are becoming increasingly parallel, which can make them much more challenging to use efficiently.
Intel® Parallel Computing Centers (IPCCs) are being established with leading high performance computing (HPC) research groups in order to directly combat the challenge of using modern computer systems more efficiently.
Intel has selected the University of Bristol as an IPCC, in recognition of the university's HPC group's world-leading research into the efficient use of many-core parallel computer architectures, and its leadership in driving open parallel programming standards.
The University will collaborate with Intel to develop parallel algorithms and optimise several of Bristol's HPC applications for Intel's latest parallel computer architectures, such as the Intel® Xeon Phi ™ Coprocessor.
Simon McIntosh-Smith, Senior Lecturer in High Performance Computing and Architectures in the Department of Computer Science, said "I'm delighted Intel has chosen to partner with the University of Bristol for its first IPCC in the UK. Our HPC group is a world leader in optimising parallel algorithms for very parallel architectures, such as the many-core Intel Xeon Phi Coprocessors, and we are recognised as champions of open standards for parallel programming including OpenMP and OpenCL. We will also be collaborating in HPC training, and will leverage Bristol's exciting undergraduate and masters course in high performance computing.
"We look forward to working closely with Intel to help design the next generation of highly parallel HPC applications, and in training the next generation of parallel programming experts."
Joe Curley, Director of Marketing for Technical Computing Group at Intel Corporation, added: "The University of Bristol combines both a demonstrated ability to innovate and optimize parallel applications using open, industry-standard techniques with a focus on practical education of the next generation of application developers.
"Intel is pleased to expand our Intel® Parallel Computing Center program by collaborating with the University of Bristol, to innovate and optimize applications in the field of computational fluid dynamics and molecular dynamics to benefit research and industry in Europe and worldwide."
Further information
Current Intel® Parallel Computing Centres are:
CINECA; Purdue University; Texas Advanced Computing Center; University of Tennessee, Konrad-Zuse-Zentrum für Informationstechnik Berlin (ZIB) and National University of Ireland, Galway
About Intel
Intel (NASDAQ: INTC) is a world leader in computing innovation. The company designs and builds the essential technologies that serve as the foundation for the world's computing devices. Additional information about Intel is available at newsroom.intel.com and blogs.intel.com.
About High Performance Computing at the University of Bristol
The University of Bristol's supercomputer, a £12million facility called BlueCrystal, was introduced in 2008 and is used by more than 600 researchers across the University.
BlueCrystal is one of the fastest and largest computers of its kind in the UK, able to carry out more than 200 trillion calculations a second. The state-of-the-art system, provided as a result of collaboration between various companies including ClusterVision, Dell, Intel and NVIDIA, enables researchers from a wide range of disciplines to undertake research requiring either very large amounts of data to be processed or lengthy computations to be carried out.