View all news
Kyoto University President awarded honorary degree as second Bristol-Kyoto Symposium begins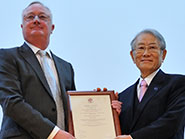 Press release issued: 9 January 2014
The President of Kyoto University, Dr Hiroshi Matsumoto, has been presented with an honorary degree from the University of Bristol at the start of the second Bristol-Kyoto Symposium, held this year in Kyoto.
The Vice-Chancellor, Professor Sir Eric Thomas, and members of his Senior Executive Team are leading a contingent of some 60 Bristol academics from across all faculties. The Symposium is intended to strengthen further the institutional links between the two universities.
President Matsumoto was given the degree of Doctor of Engineering honoris causa in recognition of his academic achievements as a scientist, his leadership qualities in the higher education sector, and the deepening relationships between Kyoto and Bristol universities.
Kyoto University is one of the top global research universities and is highly regarded for its academic excellence, being placed 23rd in the Times Higher Education World Reputation Rankings. It has produced eight Nobel Prize laureates, including Professor Shinya Yamanaka, who won the Nobel Prize in Physiology or Medicine in 2012.
The developing relationship between the two universities reflects the increasing importance of international research partnerships to address global issues, and has stimulated active links between, for example, the Cabot Institute and the Elizabeth Blackwell Institute at Bristol and complementary organisations within Kyoto University.
Among the outcomes from last year's Symposium, which was held in Bristol in January 2013, is the involvement, partly funded by the EPSRC, of Professor Robin Bedford's Sustainable Catalyst Group in developing a global network, with Kyoto and other universities in the US and Europe, to study challenging paramagnetic catalysts, an area of research crucial in delivering sustainable chemicals manufacture. Professor Bedford has also been organising student exchanges with Kyoto, funded by the Japan Society for the Promotion of Science.
The Second Symposium builds on the foundations of the first, adding new areas for exploration such as Nano-photonics, quantum technology, and cell research.
Professor Sir Eric Thomas, Vice-Chancellor of the University of Bristol: "We are very pleased to have the opportunity to honour President Matsumoto in this way and to mark the strengthening of the relationship between our two universities. We have much in common and we have much to learn from one another."
Professor Guy Orpen, Pro Vice-Chancellor for Research and Enterprise at the University of Bristol, said: "The relationship with Kyoto University is going from strength to strength as academic colleagues from both universities collaborate on research projects. This symposium builds on the success of the one held last year when we hosted a significant number of Kyoto's academics at Bristol and we fully expect that this will lead to further cross-institutional activities."