View all news
Research College showcases work of South West doctoral students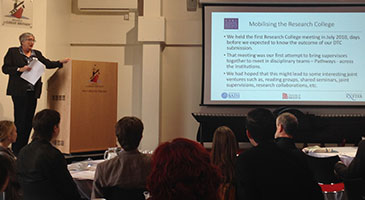 5 December 2014
The ESRC-funded South West Doctoral Training Centre (SWDTC) held its 2014 Research College at the SS Great Britain on 27 November.
A formal collaboration between the universities of Bristol, Bath and Exeter, the SWDTC represents a critical mass of social science research training supported by a large community of supervisors, partners and collaborators. The Research College brings together all pathway leads, supervisors and potential supervisors of SWDTC students and other ESRC-funded students, in order to discuss further developing the work of the SWDTC and to showcase some of the results of student collaborations.
The Research College was attended by over 70 cross-institutional colleagues and will be run annually in addition to other academic engagement activities. Outcomes from the sessions will be shared with colleagues, and the SWDTC Central Team will factor improvements, developments and ideas into forthcoming work plans.
Further information
Full details of the work of the SWDTC and associated pathways can be found on the SWDTC website, which includes many funding opportunities for advanced training and academic-led collaborations.
To get a flavour of the SWDTC from the student perspective, you can watch a video made at the SWDTC Student Conference 2014.