View all news
Bristol academics to feature in 2014 Royal Institution's CHRISTMAS LECTURES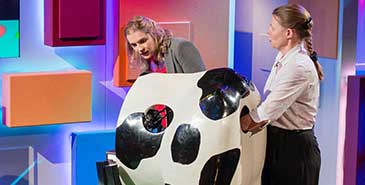 Press release issued: 22 December 2014
Academics and students from the University of Bristol will be at this year's CHRISTMAS LECTURES hosted at the Royal Institution of Great Britain.
Professor Sarah Baillie, Chair in Veterinary Education in the School of Veterinary Sciences and Dr Arthur Richards, Director of the EPSRC Centre for Doctoral Training (CDT) in Future Autonomous and Robotic Systems (FARSCOPE) together with students from the Bristol Robotics Laboratory (BRL) will take part in the CHRISTMAS LECTURES.
This year the demonstration-packed, three-part series of lectures called Sparks will fly: How to hack your homewill be presented by electrical engineer, Professor Danielle George from the University of Manchester. The lectures, supported by more than 50 companies, organisations, universities and individuals, will be delivered in the iconic theatre at the Royal Institution.
The lectures will air on BBC Four at 8 pm on Monday 29, Tuesday 30 and Wednesday 31 December.
Inspired by fellow Geordie inventor Joseph Swan, in the first lecture The light bulb moment, Professor George tries to play a computer game on the windows of a skyscraper using hundreds of light bulbs. In this lecture, Danielle will explain how these technologies work and show how they can be adapted to help you realise your own light bulb moments. She'll show you how to send wireless messages using a barbeque, control a firework display with your laptop and use a torch to browse the internet.
Lecture 2, Making contact endeavours to beam a special guest into the theatre via hologram, using the technology found in a mobile phone. In this lecture, Danielle will explain how these technologies work and show how they can adapted to help keep you connected to the people around you. She will be joined by Professor Sarah Baillie and her invention - the Haptic Cow, a 3D virtual reality simulator that allows veterinary students to feel inside a cow and determine if she is pregnant or not. This ground-breaking technology enables you to feel invisible objects in mid-air.
In the third lecture, A new revolution, inspired by the Royal Institution's very own Michael Faraday, Professor George attempts to use simple motors to construct the world's greatest robot orchestra. The cymbals will be played by a robot flying drone that has been built by FARSCOPE students at the BRL over the last four weeks. Daniele will show how the drone flies automatically – with the help of a teapot. In this lecture, Danielle will explain how these robotic and motor-driven appliances work and show how they can adapted to help you kick start a technological revolution.
The CHRISTMAS LECTURES have been a long standing part of Christmas TV since they were started in 1825 by Michael Faraday. Originally a way to present science to young people in innovative ways, the CHRISTMAS LECTURES are currently enjoyed by a wide ranging audience.
Further information
About the Ri CHRISTMAS LECTURES
The Royal Institution CHRISTMAS LECTURES are the Ri's biggest and most public facing, demonstration-packed, fun-filled science events for young people. They are broadcast on UK television every Christmas and have formed part of the festive tradition for generations - often being compared to the Queen's Christmas message and the Carols from Kings.
The Ri Christmas Lectures have been inspiring children and adults alike since 1825. The Lectures were initiated by Michael Faraday at a time when organised education for young people was scarce. He presented 19 series of Christmas Lectures himself, establishing an exciting new venture of teaching science to young people.
The Ri Christmas Lectures have continued annually since the 1825 series, stopping only during World War II. Many world-famous scientists have given the lectures including Nobel Prize winners: William and Lawrence Bragg, Sir David Attenborough, George Porter and Dame Nancy Rothwell.
The Ri Christmas Lectures have been broadcast on television since 1966, first on the BBC and then on Channel Five, Channel Four and More4. Last year the Lectures returned to BBC Four with viewing figures of over two million.
The Lectures are produced by Windfall Films and supported by more than 50 companies, organisations, universities and individuals.
About the Haptic Cow
Professor Sarah Baillie was a vet in practice for many years and developed the Haptic Cow during her PhD in Computing Science at the University of Glasgow. The Haptic Cow is used at a number of veterinary schools, including Bristol and the Royal Veterinary College at the University of London. Professor Sarah Baillie is a Visiting Fellow at the Bristol Robotics Laboratory.
The University's Research and Enterprise Development (RED) worked with Professor Baillie to ensure the Haptic Cow and horse are available through commercial partner and virtual reality company Virtalis to enhance the training of veterinary students across the world.
About the Bristol Robotics Laboratory (BRL)
Bristol Robotics Laboratory is the leading and largest academic centre for multi-disciplinary robotics research in the UK. It is a collaborative partnership between the University of Bristol and the University of the West of England (UWE Bristol), and home to a vibrant community of over 100 academics and industry practitioners, which lead current thinking in service robotics, intelligent autonomous systems and bio-engineering.
About the Robot Drone
Dr Arthur Richards leads the "Aerial Robotics" theme at the BRL. The researchers are developing new methods of control and automation for flying robots, or "drones" as they are more commonly known.
About the FARSCOPE CDT
The EPSRC Centre for Doctoral Training in Future Autonomous Robotic Systems took its first intake of 13 students in September 2014. It is supported by the Engineering and Physical Sciences Research Council (EPSRC).