View all news
Students volunteer to make Bristol Greenest Capital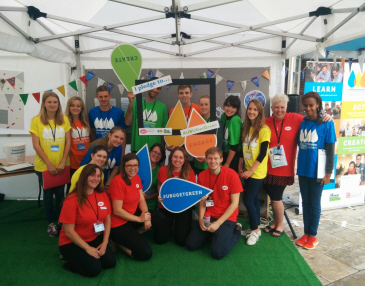 Press release issued: 16 December 2014
Bristol's universities are joining forces to make an impact of over £1 million on the city's economy whilst making positive and sustainable environmental changes during Bristol 2015 European Green Capital.
Thousands more students will engage in voluntary work with a combined total of 100,000 extra volunteering hours next year.
The project has been made possible by funding of £250,000 from the Higher Education Funding Council for England (HEFCE).
Recent NUS HEA surveys have shown that there is a strong desire amongst students to be more involved in environmental action, and that Bristol students wish to play a more active role in the city.
The project, 'Green Capital, Student Capital: Unleashing the power of Bristol Students', aims to build on this and on the strong track record of the University of Bristol, the University of the West of England (UWE Bristol) and their students' unions (UBU and UWESU) in promoting active engagement with green issues.
Over 12 per cent of Bristol's population study or work at the universities, and it is hoped that this new project will mobilise a significant number across community groups, schools and businesses - having a positive impact on the economy and the integration of students within the city.
UBU Get Green and UWESU Green Leaders will manage a number of new student projects focussed on recycling and on reducing energy wastage across the university campuses.
Previous collaborations between the University of Bristol and UWE Bristol include last year's Bristol Big Give - a city-wide collection and recycling scheme run by the universities which raised 88 tonnes of donated items for the British Heart Foundation and other local charities with a value of up to £200,000.
Professor Judith Squires, Pro Vice-Chancellor Education at the University of Bristol, said: "I am delighted that HEFCE have committed to enabling our students to do even more in partnership with the city's residents, businesses and organisations. The projects that will be funded will contribute not only to Bristol Green Capital in 2015, but also to Bristol's green future."
Professor Jim Longhurst, Assistant Vice Chancellor: Environment and Sustainability and UWE Bristol project lead, said: "I am delighted that HEFCE has funded this exciting project and that it has recognised the benefits it will bring to students and the city.
"It will unleash student energy and creativity and allow them to become active participants in developing a more sustainable Bristol. It will enable students to gain valuable experience and skills that will be useful for their future careers."
Both universities have been instrumental in securing Bristol's Green Capital status. The original bid was led by Professor Martin Bigg, Director of the Environmental Technologies Innovation Network at UWE Bristol.
The University of Bristol Cabot Institute has been directly involved in both the Green Capital Company and Partnership, including Philippa Bayley's role as co-Chair of the Green Capital Partnership.
Professor Guy Orpen, Deputy Vice Chancellor at the University of Bristol, and Professor Steve West, Vice Chancellor of UWE Bristol, are both members of the Green Capital Board.
More information on Bristol 2015 European Green Capital at the University of Bristol and ways to get involved can be found on the sustainability webpage.