View all news
Bristol research reveals clues to dementia and Parkinson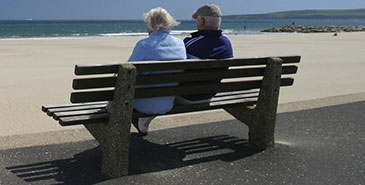 Press release issued: 10 December 2014
Researchers based in Bristol and London have uncovered a link between Lewy body diseases like Parkinson's and the brain changes associated with Alzheimer's. The findings could help to explain the close relationship between Parkinson's, more commonly known for causing movement difficulties, and dementia.
The research, published in the journal Alzheimer's Disease and Therapy, was funded by Alzheimer's Research UK and BRACE, a regional dementia research charity who funded a PhD student to carry out this work.
Parkinson's disease is characterised by the build-up of a protein called alpha-synuclein into clumps called Lewy bodies. These can affect parts of the brain controlling movement, causing symptoms such as tremors and rigidity, and leading onto dementia in around a quarter of people. Lewy bodies can also build-up primarily in the area of the brain responsible for memory and thinking, leading to a condition called dementia with Lewy bodies (DLB). DLB is the third most common cause of dementia, affecting over 100,000 people in the UK. In addition to memory problems, people with DLB also experience visual hallucinations, sleep disturbances and may go onto develop the movement problems seen in Parkinson's.
Researchers from the Institute of Clinical Neurosciences at the University of Bristol and University College London (UCL), are now suggesting that a build-up of proteins more usually associated with Alzheimer's accelerates the formation of Lewy bodies and may cause some of the memory and thinking problems seen in people with Parkinson's and DLB.
The Bristol-based team, in collaboration with researchers at UCL, used generously donated brain samples from people who had lived with either DLB or Parkinson's and compared them to samples from healthy people. Interestingly, they found clumps of amyloid, a hallmark protein of Alzheimer's, suggesting that the symptoms experienced by those with DLB or Parkinson's may not be a result of Lewy bodies alone. The team demonstrated that amyloid could in fact modify alpha-synuclein, the building block of Lewy bodies, to a form more likely to cause memory and thinking difficulties. The researchers found that those with more of this modified alpha-synuclein were more likely to have had worse symptoms.
Seth Love, Professor of Neuropathology in the School of Clinical Sciences at the University of Bristol, said: "Our research implicated the amyloid protein in Parkinson's and dementia with Lewy bodies and drugs targeting this protein are currently being tested in clinical trials. While levels of amyloid in the brains weren't high enough to cause Alzheimer's, the protein still appeared to be able to interfere with the chain of events involved in Parkinson's and dementia with Lewy bodies, potentially making these diseases worse. The next stage of research will look further into this complex relationship, to determine whether altering amyloid levels could be an approach to slow memory problems in people with these diseases.
"Understanding the memory and thinking difficulties experienced by people with Parkinson's and DLB is crucial if we are to develop effective treatments which not only tackle symptoms but halt the relentless nerve cell damage caused by these diseases. We have clearly shown that there is overlap between the biological pathways that lead to Alzheimer's and those causing Parkinson's and DLB, and that it important to draw on knowledge from other areas of dementia research to uncover new ways to treat these diseases."
Dr Laura Phipps, Science Communications Manager at Alzheimer's Research UK, added: "This research in Bristol highlights the complexity of the different diseases that cause dementia and how much overlap there may be between them. It's important to understand the varied brain changes that can lead to dementia to help develop treatments for people living with the condition Alzheimer's Research UK is committed to funding biological research that can help prevent, diagnose and treat dementia, to make a difference to those affected. There are over 830,000 living with dementia in the UK including nearly 5000 people living with the condition in Bristol alone."
Further information
About Alzheimer's Research UK
Alzheimer's Research UK is the UK's leading charity specialising in finding preventions, treatments and a cure for dementia.
We rely on donations to fund our vital dementia research. To help us defeat dementia, donate today by visiting www.alzheimersresearchuk.org or calling 0300 111 5555.
We are currently supporting dementia research projects worth over £22 million in leading Universities across the UK.
Our Defeat Dementia campaign, a pledge to raise £100 million in five years to grow the research field and accelerate progress towards new treatments and preventions, was announced by the Prime Minister at the G8 legacy event on 19 June 2014. For more information visit www.dementiablog.org/defeat-dementia