View all news
University opens doors to budding vets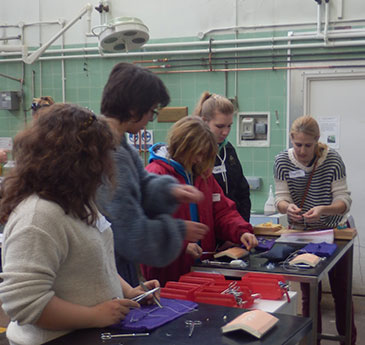 3 April 2014
More than 100 Year 11 and 12 students from as far afield as Switzerland attended an interactive workshop at the Vet School in March to find out what's involved in a Veterinary Science course at Bristol.
The long-running annual event aims to showcase some of the opportunities available to those interested in pursuing a career in veterinary science. As well as a tour of the Vet School's Langford campus and talks on admissions criteria and alternative courses to the Veterinary Science degree, participants had a chance to get involved in practical activities led by staff and students.
Hands-on sessions in the clinical skills lab included a mock surgery scenario with students preparing for surgery by scrubbing up, putting on a surgical gown and draping a canine patient. Elsewhere students honed their suturing and bandaging skills, examined the different feedstuffs that affect milk yields in cattle, and took turns at milking a life-sized cow mannequin.
Admissions Tutor, Dr Louisa Slingsby, said: 'The event was a huge success, with the practical sessions – a new feature of this year's VetQuest – being especially popular with students. Our Veterinary Science course, albeit rewarding, is a demanding one, and delegates, including parents and carers, appreciated the opportunity to find out what we expect from applicants and what it's like to be a vet.'