View all news
Academic presented with award for services to animal welfare science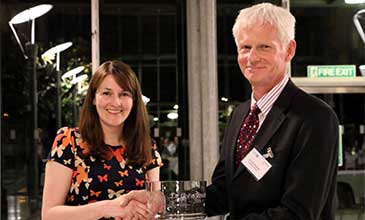 Press release issued: 30 April 2014
A scientist whose research, teaching and writing has greatly contributed to the science of animal welfare has been honoured by the RSPCA and the British Society of Animal Science (BSAS).
Dr John Bradshaw was yesterday presented with the 'Award for innovative developments in animal welfare' in recognition for his outstanding commitment and contribution to understanding companion animal behaviour.
After many years of study into the interactions between humans and animals. John founded the Anthrozoology Institute at the University of Southampton in 1992, before it moved to the University of Bristol in 2003.
As well as being a Director of the Institute, he has also held the positions of Reader in Companion Animal Behaviour and University Research Theme Leader for Animal Welfare & Behaviour in the School of Veterinary Sciences.
Although John is now officially retired, he still continues to write scientific texts and remains a visiting fellow at the University of Bristol and lectures on a variety of courses.
He said: "I am delighted to accept this award, while acknowledging that whatever contribution I have been able to make to animal welfare science has been a team effort, arising from the creativity, dedication and sheer hard work of all my research students and co-investigators.
"Companion animal welfare science remains a somewhat neglected field of work, with many pressing unanswered questions, and my hope is that this award will help to raise its profile, enabling the future generations of pet owners to be better informed of their animals' needs."
Dr Sam Gaines, acting Head of the RSPCA's Companion Animal Science Department, presented John with his award last night during the BSAS dinner at the University of Nottingham.
She said: "John is focussed on making science accessible to pet owners. This is hugely welcomed by the RSPCA.
"His recent books 'In defence of dogs - Why dogs need our understanding' and 'Cat sense' achieve just this.
"He pulls together the latest scientific knowledge and presents it in a way which is engaging for anyone who has an interest in cats and dogs.
"We believe that to care for animals properly and to ensure their health and happiness, it is vital to have a current and evidence based understanding of their biology and behaviour.
"I was personally delighted and honoured to present this award to John, having worked closely with him for many years and being lucky enough to have him as a PhD supervisor."