View all news
Bristol students win national humanitarian design award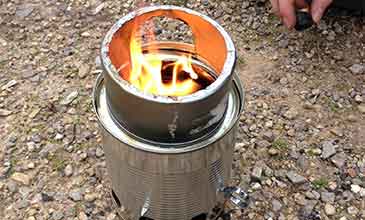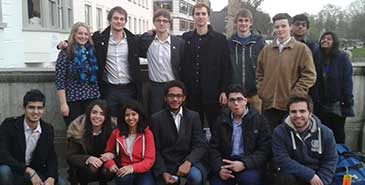 Press release issued: 11 April 2014
A team of students from the University of Bristol has won the Engineers Without Borders (EWB) Branch Challenge 2014 with their design of a Candlenut gasification stove.
The Bristol team, consisting of Lewis Roberts-James, Shane Orme, Freddie Lichtenstein and Sam Belknap, won the national final at the University of Cambridge with their design of a simple and innovative stove.
The small-scale stove was designed to burn a nut, called the Candlenut, which grows abundantly in Southeast Asia. It can be built easily from scrap metal, such as tin cans, using only simple tools. It uses cleverly positioned air holes to allow a more efficient burning process, called gasification, to take place: gases rise to the upper air holes where they reignite in a similar pattern to a domestic gas stove. This process means that not only is more energy released from the oil-rich nuts per unit mass than would be with standard combustion, but also that fewer harmful gases and particulates are released, leading to a healthier cooking environment. The team even built a prototype of the stove at the university, and used it to cook a meal for themselves.
Teams of first and second year students from the universities of Bristol, Cambridge, Bath and Nottingham, worked for ten-weeks to design appropriate solutions to development issues faced in the small village of Codo in Timor-Leste, Southeast Asia.
This was the first year the EWB Branch Challenge has been run. The competition was organised at Bristol by Billy Thurston and Abbie Moseley of the Bristol EWB committee together with EWB-UK and the other participating student branches. It was based on the EWB Challenge, a national design competition organised centrally by EWB-UK and run as part of the curriculum at 20 universities nationally.
The design briefs outlined the issues found in the target community, developed annually by EWB-UK in collaboration with a partner charity, which this year was Plan Timor-Leste.
The five teams who competed in the national finals were required to give a presentation on their designs to a panel of professional judges with expertise in the field of development engineering. The judges were: Ben Good, the CEO of GVEP International; Ian Sanderson, a consultant at AFRINSPIRE; and Bob Reed, from the Water, Engineering and Development Centre (WEDC) at Loughborough University.
The judges gave special commendation to the second Bristol team (consisting of Peter Rosso, Danyal Merchant, Claudia Jiménez Martín, Yoan Stanev, Yash Mehta and Sunjna Mullick) for their presentation of a personal biogas generator design. The team from Cambridge University were awarded second place, and Bristol's other team won the competition and places on a RedR disaster relief training course in London.
Billy Thurston said: "We were delighted with Bristol's success in the competition. The competition achieved its aims of bringing together first and second year students from many different disciplines, engaging them in a creative process from start to finish, teaching them about humanitarian engineering and also helping to improve many of their personal skills.
"It was also a success for the EWB Bristol committee, serving as a building block as it tries to integrate the national EWB Challenge into the curriculum at Bristol for September 2015 and the committee is working closely with the Dean of Engineering and other academics to achieve this."
Fifty-two Bristol students took part in the competition from a variety of different disciplines spanning engineering, sciences, languages and arts, and ten project teams were formed initially – working on projects from a small-scale biogas generator to a mobile ICT centre for schools.
Over the course of the competition, academic and professional speakers from the University and the Bristol area were invited to speak to the participants and assist them with their designs. These included: James Davies from the sustainability and physics group at Buro Happold, Rodney Veazey from the charity Practical Action, and Dr Chris Preist, Reader in Sustainability and Computer Systems from the University's Department of Computer Science.
The internal finals at Bristol were held on 20 March, during which five project teams submitted a report and gave a presentation to a panel of five judges: Gordon Findlay and Celia Way from Buro Happold, Rodney Veazey from Practical Action, Ben Mason from Mott MacDonald, and Dr Laura Dickinson from the University's Queen's School of Engineering. Two teams were then selected to attend the national finals at Cambridge University that were held last month [28 March].
Further information
About Engineers Without Borders (EWB)
Engineers Without Borders (EWB) Bristol is a student-run charity involved in international development and poverty alleviation.
In 2004, the University of Bristol's Faculty of Engineering joined Engineers without Borders UK which is a research initiative that provides a bridge between universities, students, development NGOs and local communities with technical research requirements. Bristol's engineering students have the opportunity to work on projects at home or around the globe, learning about technology's role in tackling poverty and improving lives.
The EWB Bristol, which now has over 200 members, has taken part in projects that range from research in the UK to overseas projects, such as tackling water shortages in Cuba.
Research projects are usually carried out in the UK, either as a project within a student's degree (for example, a 3rd or 4th year accredited degree project), or as an extra-curricular project run through the university EWB branch.
To join or get involved with EWB Bristol, contact Billy Thurston on email wt0185@my.bristol.ac.uk or Abbie Moseleyon email am0266@my.bristol.ac.uk