View all news
Now you see him: return of the visual effects master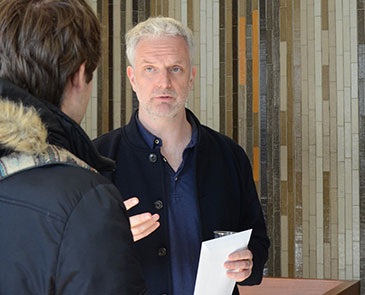 7 April 2014
Bristol engineering graduate and Star Wars fan Ben Morris delivered a talk on visual effects and digital film-making to a rapt audience of students and staff at the Faculty of Engineering's latest Inside Track lecture.
Using example shot breakdowns from recent film productions, the Bafta and Oscar award-winner focused on the creative, as well as technical, aspects of the processes involved and how they are advancing the way film-makers work.
Morris, who graduated from the University with a degree in Mechanical Engineering in 1993, is one of the film industry's leading visual effects engineers. At the age of seven, he went to see the original Stars Wars film at his local cinema and came away convinced that he should make his career in film and animation. He started off in Jim Henson's Creature Shop, quickly progressing to Technical Supervisor in charge of development of the Henson Performance Control System. After working on a number of films including the Oscar award-winning film Babe, Morris retrained as a digital effects artist, using his experience of building robotic puppets and control systems to help him better understand how to design and build 'virtual' characters in the computer.
Over the next few years, he built up an impressive film portfolio working with companies including Framestore, the largest visual effects and computer animation studio in Europe, and on films including Gladiator, Harry Potter and The Chamber of Secrets, Troy, Harry Potter and The Order of the Phoenix, Prince of Persia, The War Horse and Gravity.
Between 2005 and 2007 he worked as the Visual Effects Supervisor working on the film version of Philip Pullman's The Golden Compass, with responsibility for creating all the computer-generated armoured bears and polar environments they lived in. This success secured him both Bafta and Academy Awards for Best Visual Effects in 2008.
Morris now works as Creative Director for Industrial Light & Magic (ILM) in London, a division of Lucas Films. The studio is presently gearing up to work on The Avengers 2 and Star Wars Episode: VII. At every stage of his career, Morris has returned to his engineering background to help model dynamic real-world motion, control complex robotic cameras and mechanical rigs and derive algorithms to simulate virtual anatomy, lighting, and FX in CG images. He received an Honorary degree from the University in 2011.
The Inside Track Lecture is an industry lecture series aimed primarily at students. Speakers from a range of industries share their inside knowledge on what it is like to work in a particular industry or field. For more information, please contact the Faculty of Engineering Industrial Liaison Office at engf-ilo@bristol.ac.uk.