View all news
1,000th paper for world-leading health study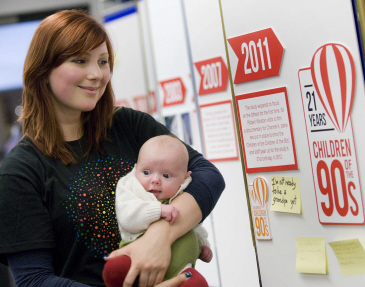 Press release issued: 2 April 2014
One of the world's largest population studies, which collects vast amounts of data from 32,000 participants to give new insights into our health, is today celebrating an important landmark in its acclaimed research history.
Researchers from Children of the 90s have published their 1,000th paper today, showing that men who started smoking before the age of 11 had fatter sons.
It's the latest finding from the project, officially called the Avon Longitudinal Study of Parents and Children (ALSPAC), which is based at the University of Bristol and has provided data to almost 600 academics worldwide.
In 1991 and 1992, more than 14,000 pregnant women in Bristol and the surrounding area agreed to take part in a ground-breaking study that would follow them and their babies, recording information to be used by scientists to investigate ways in which the environment and genetics interact over time to influence health and development.
Unlike many other studies, ALSPAC recruited women during pregnancy so that precise information could be gathered about the children's lives even before they were born. It has since followed their development through to adulthood and beyond.
Today, it has 32,000 participants including the original mums, their 14,500 children, 3,000 dads, 200 'children of the children' and 550 siblings. Even though 500 participants now live abroad, they still keep in touch with the research team.
The project has just received almost £8 million in core funding from the Medical Research Council (MRC) and the Wellcome Trust to continue its work until March 2019.
Teasing out the relationships and interactions between environmental factors and individual genotypes is extremely difficult, and requires vast amounts of data for researchers to study – which is exactly what ALSPAC has collected from its committed families.
To date, 1.4 million biological samples - including urine, hair, blood and DNA - have been collected alongside the answers to 500,000 questions and detailed records of everyday characteristics such as diet, lifestyle, socioeconomic status and emotional health.
So rich is the ALSPAC resource that the World Health Organization and the US National Institutes of Health are formally referring to the study as a model for researchers wishing to set up similar birth cohort studies worldwide.
Whether it's advice to safeguard an unborn child, or the benefits of exercise or the dangers of drugs or alcohol, ALSPAC research has given the world a wealth of practical wisdom that millions of people now put into practice every day.
Some of the key research findings from the project include:
Mothers who consume less fish during pregnancy have children with lower IQs and impaired ability to focus their eyes in early childhood.
Depression in fathers is associated with adverse emotional and behavioural outcomes in children aged 3.5 years and an increased risk of conduct problems in boys.
Children brought up in very hygienic homes are more likely to develop asthma.
Children from privileged backgrounds tend to be taller and thinner than those from other families but they also may have weaker bones.
Smoking cannabis during pregnancy can result in a smaller baby.
Peanut allergies may be linked to the use of certain skin creams.