View all news
Bristol engineer collaborates on award-winning cable-car project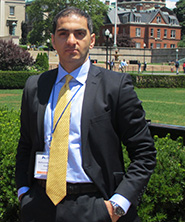 26 November 2013
The Emirates Air Line across the River Thames has won an award from the Institution of Structural Engineers (IStructE) – with a little help from Dr Mehdi Kashani of the Department of Civil Engineering.
The cable car, a dramatic new addition to London's infrastructure linking the O2 and the ExCel Exhibition Centre, won the 2013 IStructE Award for Infrastructure or Transportation Structures. The Institution's Structural Awards is the industry's most prestigious awards ceremony, celebrating international excellence in structural engineering.
Dr Kashani, then a PhD student in earthquake engineering at Bristol University, was also working part-time for one of the project's partners, URS, in its specialist structures team. During his stint there, he developed the analysis and design of the cable car's North Station, from concept to construction. He was also involved in monitoring the design of the South Station, including checking and co-ordinating drawings before they were issued for construction.
The project was delivered in a remarkably short timescale – only two years from concept through to public opening and in time for the London 2012 Olympics. 'It was an extremely challenging project because of the tight deadlines,' said Dr Kashani. 'Construction was in progress on site while we were in the office working on the designs. It was fantastic to be involved in such a bold project, especially one that has resulted in such a striking addition to the London skyline. The cable car is testament to the teamwork of all of those involved – architects and construction workers, as well as structural designers Expedition Engineering, URS and Buro Happold.'
Dr Kashani's PhD focused on the influence of long-term material deterioration on the seismic performance of reinforced concrete bridges. He is currently a lecturer in structural mechanics and earthquake engineering in the Department of Civil Engineering.