View all news
UK's first research into the effect of exercise on children with congenital heart disease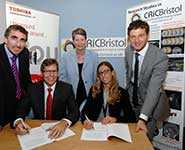 Press release issued: 13 November 2013
Toshiba Medical Systems Partners have announced a three-year research partnership with the University of Bristol and the University Hospitals Bristol NHS Foundation Trust's Clinical Research and Imaging Centre (CRICBristol). The first research study will be to investigate the effects of exercise on children with congenital heart disease.
The new echo-cardiography research project will identify the healthy limits of exercise and the wider benefits of exercise for children with congenital heart defects. Researchers will investigate fitness levels of 40 children born with a heart condition compared to 40 healthy child and adolescents, whilst exercising, which is when the heart is working harder. This will allow the researchers to investigate the heart performance under stress, to help with better identification of abnormalities, which sometimes do not present at rest. To date, echo cardiograms in children have traditionally been used while patients are at rest, making it more difficult to assess heart condition, performance and abnormality.
The aim of the project is to more precisely identify the safe levels of exercise for the children, as well as to clearly define the positive benefits that regular exercise delivers to children over time. The 80 children will be scanned over a period of months using state-of-the-art ultrasound scanning technology from Toshiba Medical Systems.
Dr Guido Pieles, Academic Clinical Lecturer in Paediatric Cardiology at the Bristol Congenital Heart Unit, said: "This is the first kind of research of its type in the UK. Our institutions have close ties with the NHS. It's our aim that this clinical research benefits the NHS through better understanding of the role of exercise in life-long care for children born with congenital heart disease.
"Through this research we hope to improve scanning protocols and applications that will enable better, more precise and earlier diagnoses of heart function abnormalities and then to quickly identify effective treatment pathways for children with congenital heart disease. Additionally, we'll also be able to better assess the benefits of exercise for children with obesity and other conditions caused by poor diet and sedentary lifestyles."
Professor Craig Williams, Director of the Children's Health and Exercise Research Centre (CHERC) at the University of Exeter, added: "This research project is exciting and much needed. This is a first step to a wider goal that looks at exercise as a good 'medicine' for sick children in general. Our work over 25 years has shown the physiological, psychological and social benefits exercise brings to children with a variety of conditions. It's important for sick children to be able to play with their mates!
"This research will allow us to better identify how much activity and how often, as at present clinicians aren't really sure what advice for children with certain conditions should be prescribed. The findings of this research will be a significant step forward for clinicians as care providers and wellbeing guides for the children with congenital heart disease, their families and carers."
The research will be undertaken using Toshiba's Aplio 500CV high-end ultrasound scanner. Its revolutionary High Density Architecture provides the researchers with clinical images of exceptional resolution and detail even while the child is exercising. Additionally, the system is equipped with a wide range of powerful clinical tools for advanced visualization, quantification and intervention for daily routines during this clinical research project.
The resulting applications could result in the development of procedures that ensure child patients have better, faster and safer journeys from scanning to treatment. Additionally the health service will benefit from the technology and understanding that might enable not only greater accuracy in defining paediatric patient pathways, but also cost savings produced by faster diagnosis and treatment.
Mark Hitchman, Managing Director, Toshiba Medical Systems, said; "It's a very exciting project for us. We understand that when investigating child patients, non-invasive procedures are the norm. With that in mind, the scanning equipment is crucial, as everything related to the subject is smaller and more challenging than adult patients. As such, capturing detailed heart function images is very difficult.
"Our heritage in applied research and development means that we have developed the technical capabilities to be an important partner in research of this kind. We're excited to see the initial results from our world class research partners and how the benefits can be passed on to the wider UK health system."
Dr Chiara Bucciarelli Ducci, Co-Director of CRICBristol and Consultant Cardiologist at the BHI, concluded: "This is an incredibly important partnership between two renowned academic centres, and two very specialised NHS institutions such as the Bristol Children's Hospital and the BHI and a world-class medical equipment manufacturer like Toshiba.
"At CRICBristol we try to act as a catalyst in fostering collaboration between the University and the NHS to improve healthcare delivery and promote best clinical practice. Having an important partner as Toshiba empowers us in achieving these goals."
Further information
About Toshiba Medical Systems Corporation
Toshiba Medical Systems Corporation is a leading worldwide provider of medical diagnostic imaging systems and comprehensive medical solutions, such as CT, X-ray and vascular ultrasound, nuclear medicine and MRI systems, as well as information systems for medical institutions. Toshiba Medical Systems Corporation has been providing medical products for over 80 years. Toshiba Medical Systems Corporation is a wholly owned subsidiary of Toshiba. For more information please visit www.toshiba-medical.co.jp/tmd/english
About the Clinical Research and Imaging Centre (CRICBristol)
CRICBristol is a joint venture between the University Hospitals Bristol NHS Foundation Trust and the University of Bristol. It is a state-of-the-art research and imaging centre which opened in February 2011. As a result of this unique collaboration between the University and the NHS people in Bristol and the South West are benefiting from the latest, high-quality, cutting-edge research being conducted locally.
CRICBristol facilities include a Siemens 3Tesla Magneton Skyra MRI scanner, funded by the Wolfson Foundation, a two-room sleep laboratory and four clinical investigation suites alongside a laboratory, meeting rooms, and access to high performance computing facilities.
CRICBristol is designed for studies in healthy volunteers as well as clinical populations. It can accommodate all levels of clinical needs, from fully ambulant outpatients to anaesthetised in-patients, providing full resuscitation facilities. With a direct link to St Michael´s maternity hospital, the facility has been purpose built and designed for studies in babies and children as well as adults given the proximity with University Hospitals Bristol NHS Foundation Trust.
About the Bristol Heart Institute (BHI) The Bristol Heart Institute (BHI), founded in 1995, consists of over 200 researchers and clinicians, located in the University of Bristol and across Bristol NHS Trusts, who are united in the mission to translate basic scientific research into novel clinical practice thereby improving patient outcome and care. It brings together internationally respected experts from many disciplines of cardiovascular science and disease. Indeed, the BHI is now an internationally recognised centre of excellence for performing interdisciplinary cardiovascular research that takes basic science discoveries into the clinic.
As well as improving collaboration between scientists and clinicians within the BHI, and improving medical treatment of cardiovascular diseases, we also aim to communicate our research findings to the public.
About the University of Exeter
The Sunday Times University of the Year 2012-13, the University of Exeter is a Russell Group university and in the top one percent of institutions globally. It combines world-class research with very high levels of student satisfaction. Exeter has over 18,000 students and is ranked 8th in The Times and The Sunday Times Good University Guide league table, 10th in The Complete University Guide and 12th in the Guardian University Guide 2014. In the 2008 Research Assessment Exercise (RAE) 90% of the University's research was rated as being at internationally recognised levels and 16 of its 31 subjects are ranked in the top 10, with 27 subjects ranked in the top 20.
The University has invested strategically to deliver more than £350 million worth of new facilities across its campuses in the last few years; including landmark new student services centres - the Forum in Exeter and The Exchange on the Penryn Campus in Cornwall, together with world-class new facilities for Biosciences, the Business School and the Environment and Sustainability Institute. There are plans for another £330 million of investment between now and 2016. www.exeter.ac.uk