View all news
Bristol students win Lloyds Scholars awards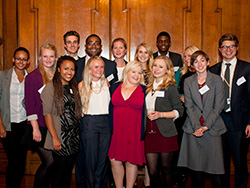 13 November 2013
Bristol students have won four out of five awards available to graduates of the Lloyds Scholars Programme.
Josh Leslie (History) won the Lloyds Champion award for the Scholar who has done most to promote the programme. Elston Sandiford (Maths) won the Chief Executive's Challenge for submitting the best solution to a challenge set by the Lloyds panel. Pauli Platek (English) and Bianca Chambers (Biology) both won Lloyds Volunteer awards for their volunteering, judged on the benefit to the recipients and the effort put in. Alexander Dickson (Maths and Physics) was runner-up in the Best Internship award. A total of 11 students from Bristol and Sheffield Universities entered for the awards.
The students were among the first cohort of graduates of the Lloyds Scholars Programme, which is designed to support and encourage students from below average income families to study at leading universities.
Students from Bristol and Sheffield Universities were accepted on to the Programme in 2011. The initiative aims to help the students enhance their academic qualifications through providing financial support, mentoring and volunteering opportunities.
The awards ceremony, attended by members of the bank, the families of the graduates and university staff, was held in London in October, with students receiving cash prizes. It is hoped that the event will become an annual feature celebrating the achievements of future cohorts.