View all news
New book explores the figure of the singer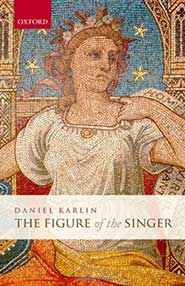 Press release issued: 3 July 2013
Why did poets continue to call themselves singers, and their poems songs, long after the formal link between poetry and music had been severed? This question is explored in a new book, The Figure of the Singer, by Danny Karlin, Winterstoke Professor of English at the University of Bristol.
In the book Professor Karlin explores the origin and meaning of the 'figure of the singer', tracing its roots in classical mythology and in the Bible, and following its rise from the 'adventurous song' of Milton's Paradise Lost to its apotheosis in the nineteenth century – by which time it had also become an oppressive cliché. Shadowing the metaphor is another figure, that of the literal singer, a source of fascination, and rivalry, to poets who are confined to words on the page.
The book opens with an emblematic figure of the greatest of all 'singers': Homer, playing his lyre, at the centre of the frieze of poets on the Albert Memorial in London.
Chapters on the tragicomic rise and fall of 'the bard', on the link between female song and suffering, and on the metaphor of poetry as birdsong, are followed by detailed readings of poems by Tennyson, Robert Browning, Elizabeth Barrett Browning, Walt Whitman, and Thomas Hardy.
The final chapter, on the songs of Bob Dylan, suggests that recording technology has given fresh impetus to the quarrel (which is also a love-affair) between poetic language and song.
The Figure of the Singer is published by OUP, price £35.