View all news
Scientists awarded grant to determine UK's greenhouse gas emissions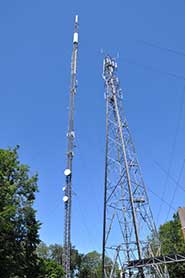 Press release issued: 1 March 2013
Researchers in the University of Bristol's Atmospheric Chemistry Research Group (ACRG), in collaboration with scientists around the country, have been awarded funding from the Natural Environment Research Council (NERC) to provide an independent 'top-down' check on the UK's greenhouse gas emissions estimates.
The UK is required to estimate how much climate-warming carbon dioxide, methane and nitrous oxide it emits each year. However, at the moment, these estimates rely heavily on so-called 'bottom-up' accounting methods that may be subject to biases and inaccuracies.
The GAUGE project (Greenhouse gAs Uk and Global Emissions) is a three and a half year collaboration between several universities and research institutions across the UK.
ACRG's Professor Simon O'Doherty, who also runs the UK greenhouse gas monitoring network funded by the Department for Energy and Climate Change, said: "It's important that we expand our greenhouse gas observation capabilities in this country, if we're really going to understand what we're emitting. But it's equally important that we begin exploring new types of measurement, which may help us understand emissions processes more fundamentally."
GAUGE will bring together a more comprehensive suite of greenhouse gas observations around the UK than has ever been compiled. The project will determine emissions using information from satellites, aircraft, tall towers (including the BT tower in the middle of London), balloons and boats.
In addition to developing new measurements, GAUGE will use computer models to simulate how greenhouse gases travel through the air.
Dr Matt Rigby, a research fellow at ACRG, said: "By measuring the concentration of greenhouse gases in the atmosphere, and then using computer models to simulate where the air came from in the days before the measurements, we can determine emissions from the surrounding areas. This new funding will allow us to develop these methods with the help of the Met Office and GAUGE partners at other universities."
Using the new measurements and modelling techniques, GAUGE researchers hope to make the UK's emissions amongst the best-quantified in the world.