View all news
Works in progress at Bristol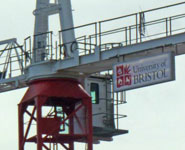 24 January 2013
An update from the Deputy Vice-Chancellor for students and staff with regard to ongoing developments across the University's estate.
Dear All
Given the amount of investment in and resultant activity around the University estate, we thought it helpful to provide students and staff with an update.
First of all it gives me great pleasure to inform you that the University swimming pool is now fully operational with immediate effect. I am sure this will be welcome news to many.
The refurbishment of the Richmond Building continues and is on track to begin its second phase in April of this year. We aim to complete the first phase by February 2013. We appreciate the patience shown by our students and staff impacted by the work to transform this building and would ask for continued patience as the project continues. Meanwhile, we are in discussion with the Students' Union to investigate what measures we can take to further reduce the impact of the ongoing works especially during Phases 2 and 3.
As you will be aware from previous updates, the University is investing significantly in its estate and it is highly important that we do so in order to ensure we provide the best facilities for students and for staff. We do recognise that while works are underway this can cause disruption, and for that we apologise. I would like to reassure everyone that colleagues engaged in this work are doing everything they can to minimise any disruption, but it is an unfortunate consequence of these activities that inevitably some inconvenience will be caused.
Below is a summary of some of the key projects under way or recently completed. I think you will agree that this is a significant amount of activity, but activity that is essential in order to provide the appropriate environment for our students and staff.
I would like to thank you again for your patience during the period of these improvements.
1. Life Sciences Building. Total investment now £56.5 million. As well as research space, this will provide new state-of-the-art teaching labs, a wide range of formal and informal learning spaces, an atrium social space and a new BioSciences library. In addition there will be an extension to the Royal Fort landscape, which will provide attractive external space.
2. Richmond Building improvements (home of the Students' Union). Phase 1 aims to complete in late January and will deliver an improved swimming pool with new changing facilities, as well as a new foyer and a host of background improvements to the building's fabric, heating, cooling and IT facilities. Phase 2 aims to complete in September 2013 and will provide a renovated Anson Rooms, fully refitted as a major venue and also with folding acoustic screens to allow natural lighting for all-day use and a folding screen to divide in two for greater flexibility. Space usage should improve dramatically. This phase will also deliver a new multi-purpose studio, together with specialist club and society spaces. Phase 3 aims to complete in September 2014 and will provide a new café with a doubling of capacity, the renovation of the Winston Theatre, (which will be fitted with a cinema screen), a new studio theatre, and a range of meeting spaces which will accompany the Union office base. In addition, the link will provide a whole range of additional informal meeting and social spaces. The whole building will be wireless enabled. Full engagement with UBU and with student focus groups has informed the design.
3. Wills Memorial Library. Being fully renovated in phases which are designed to minimise impact on revision and exam activity. The aim is to pause work after March 2013 until June and complete in September 2013 which will provide a wireless environment in all areas, with improved lighting and power points for laptops. The foyer has been extended and improved.
4. Hiatt Baker Hall. An extension to provide an additional 327 bedrooms, either en-suite or in town house format. Students have been consulted on the design and mix of accommodation. The work also includes renovation of the catering area, main entrance and library, again to respond to student feedback. The aim is to complete this in 2014.
5. Construction of a new public transport hub at Stoke Bishop, providing dedicated facilities for the bus service, with covered waiting space adjacent to the Hiatt Baker foyer and café. A new network of footpaths will link in all halls. The aim is to have this completed by September 2013.
6. This summer, renovation of Churchill Hall kitchens and a further 70 bedrooms, together with renovation of bathrooms at Clifton Hill House and bedrooms at Goldney Hall. Work on the full renovation of Manor Hall is under way and the plan is to reopen in the summer.
7. New student learning zone in the Hawthorns, enabling the two refectories to be used more proactively. This consists of 300 available spaces with a range of casual and group learning spaces and bookable meeting rooms. Equipment includes fixed computers, plasma screens and colour printers – wireless connectivity and power is available throughout. The facility is open from 8am until 9pm.
8. The extension and renovation of the open-access IT centre within the Computer Centre.
9. Renovation of large lecture theatres and teaching labs in the Wills Memorial Building, the Priory Road Complex, the Maths Building and Medical Sciences. In addition, the replacement of computers in all major teaching spaces and replacement of AV equipment in many teaching spaces.
10. The creation of student social learning space at Langford, together with a new gymnasium. Plus the new £1.2 million dairy unit, which opens in November to provide a state-of-the-art experience for veterinary students.
11. The completion of a new Doctoral Training Centre and postgraduate facilities at 1 Priory Road and teaching and meeting spaces at 11 Priory Road. Renovation and re-equipping of postgraduate study space in Belgrave Road. All of these were completed this summer at a total cost of circa £2 million.
12. The provision of a new fitness studio to increase capacity in the Sports Centre. This opened at the end of October 2012.
13. Improvement and redecoration of library facilities in Chemistry and Physics.
14. Renovation of the Haggett IT labs in Geographical Sciences including the upgrade of all IT equipment. The aim is to complete this by the beginning of 2013.
15. Works to modernise the HH Wills Physics Laboratory, to include a new foyer with wireless enabled space for students and an accessible entrance. Internal improvements to the building will follow and the aim is to complete this during the spring of 2013. It had originally been hoped the foyer would be ready by the beginning of October 2012 in time to give access for the start of lectures. The delay until mid November is regrettable and we apologise for the inconvenience to students and staff who found the access to the lecture theatres less than ideal in this period.