View all news
International Office Scholarships awarded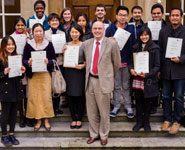 21 December 2012
The University's International Office has awarded its 2012-13 Scholarships at a ceremony in Royal Fort House.
Each year, the International Office rewards the highest-achieving international students with scholarships that contribute towards the cost of their tuition fees. For 2012 entry, seven undergraduates and 12 postgraduates from across all faculties were awarded scholarships.
The winners of the International Office 2012-13 Scholarships are as follows:
Aleef Al-Amin (Bangladesh)
Akshaya Ayyangar (India)
Debanjan Bhattacharyya (India)
Ji Yeon Cha (South Korea)
June Chen (Singapore)
Sompradthana Chuaikuea (Thailand)
Cailin Cullen (USA)
Bhoovish Ashil Singh Juddoo (Mauritius)
Alexandra Khageeva (Russia)
Thuy Thu Mai (Vietnam)
Zaur Mashadimammadov (Azerbaijan)
Huy Hoang Ngo (Vietnam)
Vera Ngosi (Malawi)
Harshaka Nissanga (Sri Lanka)
William Pearson (Canada)
Sahaj Sawhney (India)
Kobkiat Tananchaya (Thailand)
Samuel Tay (Singapore)
Maiko Tsutsui (Japan)
More details and profiles written by the scholarship winners are available on the International Office webpage.