View all news
Academic Rheumatology Unit celebrates 25th anniversary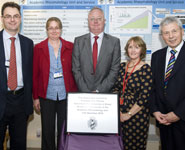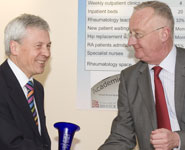 18 December 2012
Staff and patients at the Academic Rheumatology Unit recently celebrated a quarter of a century of clinical care, teaching and research.
The Academic Rheumatology Unit, established at the Bristol Royal Infirmary in 1987, has steadily grown and developed its services thanks to an increased investment in rheumatology care. From an initial four outpatient clinics per week, the Unit now has around 25; waiting times of 18 months have been reduced to eight weeks or less; and whereas only 10 per cent of medical undergraduates were taught rheumatology in 1987, now 100 per cent have eight weeks of musculoskeletal teaching on specialised attachments.
The Unit's approach to treatment has also evolved, earning it a 2007 Guardian Public Service Award for Long Term Conditions. In the past ten years the Unit has developed as collaboration between the Universities of Bristol, University Hospitals Bristol NHS Foundation Trust and the University of the West of England, which has resulted in a strong and productive research culture.
The unveiling was followed by the Annual Rheumatology Lecture, which was given by Professor Peter Tugwell, Director of the Centre for Global Health at the University of Ottawa, Canada.