View all news
Bristol psychologists launch BrainBank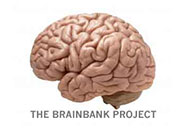 Press release issued: 12 December 2012
A collection of clips, demonstrations and activities used by psychologists and neuroscientists to communicate different aspects of brain function has been created by Dr Nathalia Gjersoe and Professor Bruce Hood in the School of Experimental Psychology.
BrainBank is a free online teaching resource based around Professor Hood's 2011 Royal Institution Christmas Lectures entitled 'Meet Your Brain' designed to support and promote neuroscience to teenagers. These lectures were rated 'excellent' by independent audience assessors and generated over 4 million viewers when they were broadcast on BBC Four last December.
Audience members were surveyed before and after the lectures to explore what demonstrations were the most effective, the most memorable and the most enjoyable. These examples were subsequently tested on 300 pupils from widening participation schools in Bristol.
The BrainBank is the culmination of that work, incorporating the 60 demonstrations that worked best and were remembered by the largest number of students. The content covers the three original lectures based on neural architecture, function and the social brain.