View all news
Sara Lewis (née Hombal), 1970-2012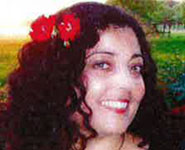 3 December 2012
Sara Lewis, a former Personnel Manager, has died after a short illness. Fiona Ford and other friends and colleagues offer an appreciation.
Our friend and colleague Sara Lewis very sadly died after a short illness on 19 November aged just 42.
Sara joined the University as a Personnel Manager in May 2004. She initially supported managers and staff across the Faculty of Medicine and Dentistry, but throughout her time with us she also worked with staff in many other areas, including the Faculty of Engineering, Support Services and the Students' Union.
Sara also had many friends and colleagues in the Faculty of Arts, where, not long after joining us, she enrolled as an MA student on a course in French Translation. She was certainly put through her paces at her interview for the role with us, with the Dean of Medicine deciding to check out her claim of speaking fluent French by asking her a question in French! Sara took this in her stride, responding beautifully and proving beyond doubt her linguistic skills (as well as her impressive HR credentials).
It was clear from the outset that Sara was an excellent appointment. Not only did she bring with her a wealth of HR skills and experience, but she quickly found her natural home here, clearly understanding the University, its people, and its values. She was highly professional and brought a huge degree of personal commitment and integrity to her role, quickly inspiring respect, trust and confidence in all those she supported.
As a colleague, Sara was a joy to work with, always warm, bright and cheerful with a great sense of humour. She was great fun to be with and continued to enjoy regular social gatherings with her colleagues long after leaving the University. She made many very good friends during her time at the University and remained in touch with many of us.
Outside of work she loved to socialise with family and friends, and she also had a love of craft activities and travelling – most notably visiting extended family in India with her husband, Simon, and touring around Southern India with him last year. Sara had a very close relationship with her family and kept her colleagues entertained with stories of her many shoe-shopping expeditions with her mum!
Most people who knew Sara during her time here would have been unaware of the sheer grit and determination she showed in dealing with health problems even then. She maintained her amazing courage and positive approach throughout her short, but very rich, life.
Sara left the University in August 2008 to take up a more senior personnel role at UBHT, where she remained until her illness intervened. She is very fondly remembered and will be much missed by her friends and colleagues in HR and across the University.