View all news
Special presentation day marks medal tribute from the Queen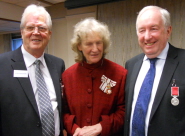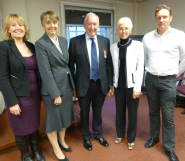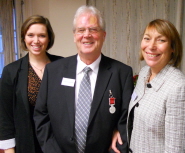 Press release issued: 30 November 2012
Two long-serving members of staff at the University of Bristol have been presented with a British Empire Medal - a special accolade bestowed on them by the Queen to mark her Diamond Jubilee.
Dave Skelhorne and Geoff Davies were both singled out in the Queen's birthday honours last June for their contribution to education and eagerly collected their medals this week.
They were among nine Somerset residents who received their medals from Lady Gass, Lord Lieutenant of Somerset, in Taunton's County Hall.
Dave Skelhorne, 70, has worked at the University for 17 years and was awarded the British Empire Medal [BEM] in recognition of his services to heritage buildings and higher education. Dave retired four years ago but wanted to remain working part-time, such was his love of the job.
He's been responsible for maintaining many of the University's historic buildings and has been instrumental in establishing the popular tours of the Wills Memorial Building which have raised over £10,000 for charity.
Dave, who lives in Portishead, said: "I felt extremely proud and deeply honoured to be receiving an award for services to heritage buildings, a subject about which I am quite passionate. I felt too, that the award honoured the many people who have been involved on the various restoration projects which I have managed over the years."
Geoff Davies began working at the University 35 years ago as the farm manager at Langford, where the Veterinary School is based. He receives the BEM for services to veterinary education.
The accolade follows on from being awarded an Honorary Associateship of the Royal College of Veterinary Surgeons in 2008.
Both achievements reflect his commitment to the Veterinary School, where he progressed from farm manager to part-time special lecturer and latterly as an administrator. He established the student administration office in 1993 and, despite retiring last year, he still maintains his links with the University through his part-time work as a consultant for student placements.
Geoff, from Bridgewater, said: "It was a very special day - the culmination of 35 years at the University. It was also very humbling that my wife had gone to so much trouble to get the contribution I had made to student life recognised."
The BEM was established in 1917 for people not of rank. Unlike the OBE and MBE, which are awarded personally by the Queen or Prince of Wales, the BEM is awarded by a local lord lieutenant. John Major scrapped it in 1993 but David Cameron announced its reinstatement last year, saying he wanted to ensure people involved in voluntary work are properly recognised.
Around 300 people are expected to be awarded each year and will be invited to attend a Buckingham Palace garden party.
Maggie Shapland, who has worked in IT Services for 40 years, has also been awarded a medal for services to conservation and heritage in Clifton. The 66-year-old has been heavily involved with Clifton and Hotwells Improvement Society for the past decade, campaigning for the best features of the area to be preserved and for amenities to be improved. She is set to receive her medal in January.