View all news
Empire, war and nation in the Bay of Bengal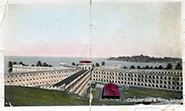 Press release issued: 29 November 2012
How resistance against the British Empire has been commemorated in the Andaman Islands, a Union Territory of the Republic of India, since Independence in 1947 is the subject of a public lecture at the ss Great Britain on Wednesday 12 December.
The lecture, sponsored by the University of Bristol, will be delivered by Clare Anderson, Professor of History at the University of Leicester, who has published widely on the history of the Indian Ocean in the nineteenth and twentieth centuries.
Professor Anderson will discuss how India has created a national history of the struggle for Independence, in ways that have not always been smooth or uncontested.
The Andamans were what might be called an extreme manifestation of Empire: during the period 1858-1940 they were a penal colony for Indian and Burmese convicts. The Islands were also the only part of what is now the Republic of India to have been occupied by the Japanese during the Second World War. The history of the Islands as a penal colony and as an occupied territory has had enduring effects in terms of how the struggle against Empire has been and is still commemorated, both in the Islands and in mainland India.
Professor Anderson's talk promises to illuminate the close relationship between the making of history and the making of the nation in post-colonial India, exploring the tangible role which, despite being geographically peripheral to the mainland, the Andamans have played.
The lecture, Empire, War and Nation in the Bay of Bengal: History and Commemoration in India and the Andaman Islands takes place at 6.15pm on Wednesday 12 December in the Viridor Theatre, ss Great Britain, Bristol
The event is free and all are welcome; please book online by 10 December.
This lecture is sponsored by the University of Bristol, and is part of a series of events looking at the memorialisation and commemoration of empire.