View all news
Top honour for Bristol business leader's 'outstanding contribution'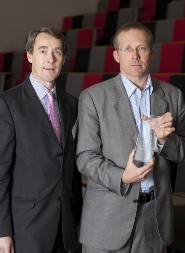 Press release issued: 23 November 2012
A leading business association has awarded Nick Sturge, the Director of Bristol SETsquared Centre, with a top accolade in recognition of his work to help start-up businesses in the city to grow. UK Business Incubation (UKBI) highlighted the work Nick does to support high-tech business ventures and boost the regional economy, honouring him with an Outstanding Contribution to Business Incubation award at its annual conference.
Read about Nick Sturge's latest award.
UK Business Incubation (UKBI) highlighted the work Nick does to support high-tech business ventures and boost the regional economy, honouring him with an Outstanding Contribution to Business Incubationaward at its annual conference.
Since 2006, Nick has been running the Bristol SETsquared Centre based at the University of Bristol, successfully supporting over 150 companies which have raised more than £75million in equity, grant and debt funding.
He was praised for his work to place innovation at the heart of local, regional and national agendas through lobbying of Government and welcoming high-profile visitors such as MP Vince Cable and HRH The Duke of York to showcase the work of the centre.
The award builds on the Bristol SETsquared Centre being named Best Established Business Incubator in 2008.
Nick said: "Bristol is a thriving city for high-tech businesses and we are proud to be doing our bit to help grow new businesses and create high-value jobs. I was surprised and honoured to win this award, which is very much a testament to the success of the whole team at the Bristol SETsquared Centre who all work hard to support such businesses and in turn support the local economy."
The Bristol SETsquared centre, part of the SETsquared Partnership, accelerates high-tech, high-growth start-up and early stage businesses, including those originating from both inside and outside the University of Bristol.
There are currently nearly 60 businesses based at Bristol SETsquared, employing over 500 people. Nick has been instrumental in building a large community of professional advisors who give their time for free in clinics, workshops and mentoring support.
David Rowe, Chairman of UKBI, said: "Certain individuals stand out and UKBI has had the privilege of working with and learning from Nick for many years. Since 2006 he has led a business incubation environment in the South West of England from strength to strength, and has led the regional network of practitioners to become the largest of its kind in the UK. He is entrepreneurial and innovative in his approach and is a pillar of the business incubation and business growth community in the UK."
Further information
About the SETsquared Partnership
The SETsquared Partnership is the enterprise collaboration of the Universities of Bath, Bristol, Exeter, Southampton and Surrey. Together, the universities employ 8,500 academic staff, earn £450m of the UK's higher education research budget and produce 11 per cent of all UK university patents.
The partnership has a 10 year track record of supporting companies through its innovation centres, which provide access to industry specialists, investors and experienced entrepreneurs. SETsquared currently supports over 250 early stage high-tech, high growth potential businesses, and 90% of its incubated companies are still in business three years on. In the past five years, nearly £0.75bn in investment funding has been raised by spin outs and incubated companies.
SETsquared supports its student population of over 92,000 graduate and undergraduates to gain hands on business skills and entrepreneurial training through experiential inter-university activities. The Partnership also provides opportunities for industry to access academic ideas with commercial potential and develops collaborative R&D relationships. The Partnership seeks to promote the impact, economically and socially, of its institutions' research and enterprise activities.
For further details see www.setsquared.co.uk or www.twitter.com/setsquared_Br