View all news
Bristol Alumna set to give games a stylish send off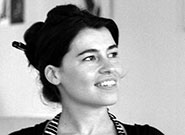 8 August 2012
Bristol Alumna, Es Devlin, has designed the set for the 2012 Olympics Closing Ceremony.
The London 2012 Olympics will bow out in style on a set created by the award-winning designer, and Bristol Alumna, Es Devlin (BA 1993).
Once the last national anthem has been played, Devlin, 40, will have less than 24 hours to transform the Olympic Stadium from athletic arena into the stage for the Olympics Closing Ceremony, coverage of which is expected to attract a worldwide television audience of four billion.
Details of her design have been kept closely under wraps, but the ceremony has been titled 'A Symphony of British Music', and will feature more than 4,100 performers, including 3,500 adult volunteers and 380 schoolchildren from the six east London host boroughs.
Widely regarded as one of the UK's most talented set designers, Devlin's career has taken her from the intimacy of the Bush Theatre to some of the world's biggest pop arenas, creating sets for the likes of Lady Gaga, Take That, the Pet Shop Boys, Jamie Cullum and Kanye West.
Devlin's busy CV also includes the stage and costume design for dance, theatre and opera productions, including the Royal Opera House's recent production of Berlioz's Les Troyens.
Among her many awards, the Kent-born designer has been named TPi Stage Designer of the Year for the past three years in a row and in 2006 she won the Olivier award for Best Costume Design.