View all news
Bristol University and GKN Aerospace agree closer links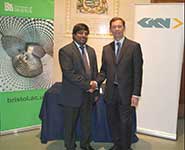 Press release issued: 30 July 2012
The University of Bristol and GKN Aerospace have signed a Memorandum of Understanding (MOU) reflecting a shared desire to maintain and develop the engagement between the engineering industry and the University.
The University of Bristol and
GKN Aerospace
have signed a Memorandum of Understanding (MOU) reflecting a shared desire to maintain and develop the engagement between the engineering industry and the University.
The agreement, with the University's Faculty of Engineering, promises to deliver a series of initiatives to support research and engineering students. These include new kinds of student internship; the mentoring of engineering students by GKN Aerospace engineers from the company's Bristol operation; and engagement with GKN Aerospace's international operation. In a recent outcome of this new relationship, University of Bristol engineers have been taken on by GKN Aerospace in China through an international internship programme launched by the University's Faculty of Engineering earlier this year.
Professor Nishan Canagarajah, Dean of Engineering, said: "This collaboration with GKN Aerospace has already resulted in several positive results for our staff and students. The MOU we sign today reflects our belief that this relationship continues to get stronger and will deliver some very exciting new projects across teaching and research."
Dr Andrew Clarke, Vice President, Engineering, GKN Aerospace, explained: "Our signing of this MOU is a clear expression of our long-term commitment to strong and effective research links with academia and to supporting the training and development and of a future generation of engineers that will be vital to the manufacturing sector in Bristol and the UK."
GKN plc is a global engineering group. It has four divisions; GKN Driveline, GKN Powder Metallurgy, GKN Aerospace and GKN Land Systems, which operate in the automotive, aerospace and land systems markets. Approximately 44,000 people work in GKN companies and joint ventures in more than 35 countries. GKN is listed on the London Stock Exchange (LSE: GKN) and recorded sales of GBP6.1 billion in the year to 31 December 2011.
Further information
About GKN Aerospace
GKN Aerospace is a world leading global first tier supplier of airframe and engine structures, components, assemblies, and transparencies to a wide range of aircraft and engine prime contractors and other first tier suppliers. It operates in three main product areas: aerostructures, engine components/sub-systems and special products. With sales of GBP1.5bn in 2011, GKN Aerospace has a global customer base and operates in both civil and military markets, with significant participation on all major aircraft programmes.
About the University of Bristol's Faculty of Engineering
Engineering at the University of Bristol is committed to producing leaders and entrepreneurs of the future and to advancing the knowledge and technological innovations required to address global challenges.
Our academics are internationally recognised research leaders who have led the way in some of the most ground-breaking developments - from establishing the equation for the wing design on the Spitfire in the 1930s, to inventing the technology that led to the first mobile phone in the late 1970s. Today, our world-leading research continues, from the development of wallpaper that will protect buildings from earthquake damage, to developing power efficient technologies that will reduce carbon emissions from mobile phone base stations, reducing the environmental impact of communications systems.
Bristol is proud of its interdisciplinary culture where our academics have established lasting global partnerships with other leading universities and industry. We apply our research through successful technology and knowledge transfer, and our work is always engaged with industry, allowing us to add value to the national and global economy.