View all news
Student gives minimum wage plight an operatic makeover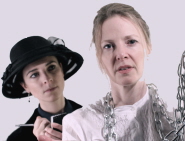 Press release issued: 30 July 2012
The story of women chainmakers who fought for a minimum wage has been brought to life in a new opera written by University of Bristol student Victoria Bourne. The production is being debuted at Tête à Tête: The Opera Festival - one of London's biggest showcases for up-and-coming opera talent.
The production is being debuted at
Tête à Tête: The Opera Festival
- one of London's biggest showcases for up-and-coming opera talent.
Victoria, who is an MA Music student, has not only co-written the piece but she's also directed the company and will be the lead soprano.
The focus of her opera is the plight of 800 women who worked as chainmakers in the Black Country in the 1900s, often spending 14 hours a day making chains. They were known as 'slaves to the forge', earning the equivalent of 50p a week.
The Chainmakers' Strike tells the story of how the women chainmakers of Cradley Heath went on strike for 10 weeks in 1910, eventually winning the battle to establish the right to a fair wage. It was a landmark victory which that changes the lives of thousands of workers who were earning little more than 'starvation wages'.
Victoria has been working closely with the Black Country Living Museum to ensure the opera accurately represents the lives of the chainmakers and their plight. She's also been collaborating with Bristol-based composer and musician Chris Harper to co-write the opera.
Victoria, who started studying at Bristol University last summer, said: "I wanted to write a new work about an event or moment in history from my family's home town Birmingham and the Black Country. As I was researching I came across the incredible story about how these women workers fought for and won the first minimum wage in this country.
"I went to the Tête à Tête opera festival in 2011 to see several pieces by other companies and composers who I knew. From going to the festival I knew that it would be the right festival for one of my own works to be performed there. We're all very excited and hope it will be well-received by the audience."
Victoria got in touch with the festival's organisers and they agreed that The Chainmakers' Strike would fit well with their plans. Funding from the University of Bristol has enabled Victoria to bring her ideas to the stage.
The sixth Tête à Tête: The Opera Festival takes place from 2 to 19 August and features over 70 performances from 30 companies, all presenting entirely new work.
The Chainmakers' Strike is being performed on Saturday, 4 August and Sunday, 5 August at The Riverside Studios in Hammersmith, London.
The story of the strike and the chainmakers' plight is told through a haunting aural tapestry of soprano (Victoria Bourne), spoken text (Gemma Reynolds), guitar and sampler (Chris Harper).
For further information, please visit: www.andthenwedanced.com or www.victoriabourne.com