View all news
Olympic rings: Great George sounds the start of London 2012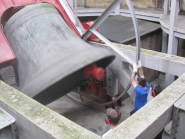 Press release issued: 26 July 2012
The start of the London 2012 Olympics will be marked by Great George, the nine-and-a-half-ton bell in the tower of the University of Bristol's Wills Memorial Building, when it rings out across the city at 8.12am tomorrow morning [Friday, 27 July].
It will join thousands of bells across the county as part of a simultaneous bell-ringing to celebrate the first day of the Games.
Turner-prize-winning artist Martin Creed came up with the idea for the London 2012 festival. He suggested all the bells in the country should be rung as loudly as possible for three minutes.
The celebration aims to set a world record for the largest number of bells being rung simultaneously and can include anything from children with handbells to people ringing bicycle bells and doorbells to experienced ringing experts of tower bells and church bells.
At nine-and-a-half-tonnes, Great George is the country's sixth largest bell. It's being rung by a team of bell ringers who swing the bell using its rope and mounted wheel to produce a louder and richer sound than when the clock hammer usually chimes.
Such ringing is saved for special occasions such as the Queen's Jubilee in May and the Royal Wedding last year.
It joins Big Ben in chiming for three minutes to help ring in London 2012. It will be the first time Big Ben has been rung outside its regular schedule since 15 February 1952, when it tolled every minute for 56 strokes for the funeral of King George VI.
Further information
Great George
Great George was cast in 1924 and is reputed to be the finest E-flat bell in Europe and one of the deepest-toned bells in the world. It is the sixth-largest bell in England and is believed to be the third-largest that can be rung by hand. It is 6ft 9" high and 8ft 4" in diameter and can be heard 12 miles away. It is named after George V, George Oatley and George Wills.
The University of Bristol Society of Change Ringers (UBSCR)
The University of Bristol Society of Change Ringers was founded in 1943. The 300 plus membership is made up of current and past students and staff of the University of Bristol. Members of UBSCR can be found all over the world.