View all news
Vet School lecturer awarded Veterinary Nursing Golden Jubilee Award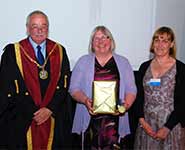 Press release issued: 23 July 2012
University of Bristol Vet School lecturer, Sue Badger, has been awarded the Veterinary Nursing Golden Jubilee Award for 2012 for her significant contribution to the veterinary nursing profession during her long-standing career.
The award has been given to Susan Badger, recently retired Teaching Fellow and Undergraduate Dean of Veterinary Nursing at the University of Bristol's
School of Veterinary Sciences
and
British Veterinary Nursing Association
(BVNA) Senior Vice President.
The award, launched last year by the Veterinary Nursing Council to mark the 50th anniversary of veterinary nurse training, is given in recognition of exceptional contributions to the veterinary nursing profession and animal welfare.
Sue Badger qualified as a Registered Animal Nursing Auxiliary (later Veterinary Nurse) in 1976. She taught veterinary nursing at the University since the late 1980s, and ran the veterinary nursing certificate course, before taking on the development and management of the second veterinary nursing undergraduate programme nationally, in 1999.
As well as being influential in the educational arena, Sue has also played an important role in the political arena. She has been executive editor of the Veterinary Nursing Journal for a number of years and is an instrumental member of the BVNA Council, taking the role of President in 2010-11.
Sue recently retired from veterinary nurse education after a long career at the University and this award is a timely recognition of her work.
The award was presented at the Royal College of Veterinary Surgeons' AGM and Awards Day on 6 July 2012.
Further information
The Veterinary Nursing Council decided that the 'VN Golden Jubilee Award' should be accessible to a broad spectrum of individuals, so veterinary nurses or veterinary surgeons involved in any aspect of veterinary nursing, clinical practice, research, teaching or politics, are eligible to be nominated.