View all news
Going for gold: Bristol's top athletes prepare for the Olympics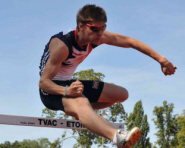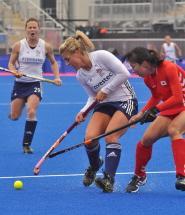 Press release issued: 23 July 2012
Six students from the University of Bristol, past and present, are making their final preparations for the eagerly-anticipated London 2012 Olympic Games, which begin on Friday.
Lawrence Clarke
came second in the 110m hurdles trial earlier this month, securing a place in Team GB with an impressive time of 13.45 seconds. The 22-year-old graduated last year with a 2.1 in Theology and Religious Studies and has since been training in Bath where he's coached by Colin Jackson's old mentor Malcolm Arnold.
Also in Team GB is Georgie Twigg, who has just completed her Law degree. At 21, she was named as the youngest member of the women's hockey squad in May, just weeks before sitting her finals.
Sailor Iain Percy OBE, 36, will be hoping for a hat trick after winning gold medals at both the Sydney and Beijing Olympics. The former Economics student, who studied at Bristol between 1995 and 1998, will defend his title in the Men's Star Class at London 2012.
Claire Hallissey, 29, who completed a PhD in Immunology between 2006 and 2010, will be competing in the marathon at London 2012 after running a personal best time of 2hr 27min 44sec in the London Marathon, making her the first British woman to cross the finish line and secure her place on Team GB.
Dressage rider Laura Bechtolsheimer, 27, is currently ranked second in the world and has been tipped for the gold medal with her horse Alf. She graduated from Bristol University in 2007 with a BSc in Philosophy and Politics.
And Hannah Mills, 24, who is currently studying Engineering but has deferred her final year to focus on her sailing ambitions, will compete with partner Saskia Clark. The pair are the reigning world champions in the women's 470 class.
All of these sporting alumni have been members of the High Performance Squad of athletes at Bristol University, which helps talented student athletes continue with their sporting careers without compromising their academic progress.
Gordon Trevett, High Performance Manager at the University of Bristol, said: "We're delighted and very proud to have six athletes competing at the Olympics who have all been part of the High Performance Squad. Many came to the University competing at county level and left at national level thanks to making huge improvements to their performance each year.
"We would be delighted with any medal. I think Iain Percy's the one to watch given his track record and I know he would love to complete a hat trick in front of his home crowd in Weymouth. The others are all at the top of their game and if they continue to improve then any one of them could be up there on the podium."
For a full schedule of when the University of Bristol athletes are competing, please see the Alumni web pages.
Vittoria Panizzon (BSc 2005), 28, represented Italy in equestrian eventing and came 11th overall.