View all news
Ping pong mania hits the University of Bristol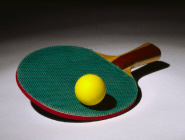 Press release issued: 20 July 2012
The University of Bristol is the latest organisation to take part in the table tennis mania which is sweeping the city this month. The phenomena, called Ping!, is a street ping pong project, which sees tables installed in public locations across UK cities in the run-up to London 2012.
The phenomena, called
Ping!
, is a street ping pong project, which sees tables installed in public locations across UK cities in the run-up to London 2012.
Staff at Bristol University are invited to brush up on their bat and ball skills and take part in a free tournament on Tuesday, 24 July, outside Senate House from noon until 2pm.
The winner will receive a coveted golden ticket, guaranteeing a place in the King Ping! Bristol tournament to be held at St Paul's Community Sports Academy on Friday, 27 July.
Professor Alan Champneys, Head of Queen's School of Engineering, is the brains behind Bristol University's tournament and is able to draw parallels between the sport and his research interests.
The self-appointed Professor of Ping said: "Ping! really seems to have captured people's imagination across the city. Being an avid player myself, I didn't want the University to miss out on such a fun opportunity.
"Everyone's welcome. Just turn up for as long as you like for ping pong related fun and games. Table tennis is such a great sport because all abilities can play and you can't help but have fun at the same time."
The sport has parallels with Professor Champney's research, which focuses on dynamics – the effect of forces on motion – and, more specifically, how objects bounce and spin.
Professor Champneys added: "The thing I love about table tennis is that it enables me to combine my own competitive nature, through an all-age sport, with my research expertise in dynamics, especially in things that bounce and spin. Indeed, I have been working recently on explaining some of the weird effects you get when a table tennis ball hits a highly flexible surface."
There are 46 tables dotted across the city, with the public urged to make the most of the free bats and balls provided until the end of July. Over 23,000 people have so far taken part.
Thanks to the Ping! legacy, 21 concrete tables will remain in parks to allow people to keep up the fun pastime.
Ping! Bristol is delivered in partnership with Bristol City Council and the English Table Tennis Association.
It's supported by National Lottery investment from Sport England, as part of its work to deliver a mass participation legacy from the London 2012 Olympic and Paralympic Games.