View all news
Bristol academic elected Fellow of the British Academy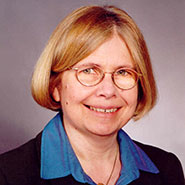 Press release issued: 20 July 2012
Professor Gillian Clark of the Department of Classics & Ancient History at the University of Bristol has achieved the rare distinction of being elected a Fellow of the British Academy, the national academy for the humanities and the social sciences responsible for promoting research and scholarship in all branches of humane and social studies.
The British Academy elected 38 new Fellows at its Annual General Meeting on 19 July 2012. Each of them is a highly distinguished academic, recognised for his or her outstanding research. The Fellows represent the full range of the Academy's subject areas from early literature to law.
Professor Clark's research field is the relationship of inherited classical culture and late antique Christianity. She works especially on Augustine and on the late Platonist philosophers Porphyry and Iamblichus, and also has a longstanding interest in women's history and the history of gender.
She directs an international collaborative and interdisciplinary project, funded for its first five years by the AHRC, for a commentary on Augustine City of God (De Civitate Dei) to be published in print and electronic versions.
She is co-editor of the monograph series Oxford Early Christian Studies, Oxford Early Christian Texts and Translated Texts for Historians 300-800 and is also on the editorial board of the Journal of Roman Studies.
Sir Adam Roberts, President of the British Academy said: "Our Fellows play a vital role in sustaining the Academy's activities - from identifying excellence to be supported by research awards, to contributing to policy reports and speaking at the Academy's public events. Their presence in the Academy will help it to sustain its support for research across the humanities and social sciences, and to inspire public interest in these disciplines."