View all news
Students get a taste of summit diplomacy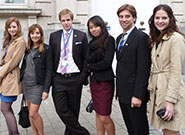 19 July 2012
Six students from the MSc in International Relations MSc represented Hungary at the first Model NATO Youth Summit in Brussels.
Six students from School of Sociology, Politics and International Studies took part in the first Model NATO Youth Summit in Brussels from 8 to 13 July 2012.
Astrid Holzinger, Sarah Kerrigan, Adrienne Leung, Tyler Olinski, Charlotte Langridge and Tom Hoare, who are all studying towards an MSc in International Relations, took part in the first simulation of the NATO decision-making process in Europe.
Representing Hungary at the conference the University of Bristol delegation was one of only two UK universities chosen from hundreds of applications to take part in the summit – not only the first of its kind in Europe, but also the largest simulation of NATO's decision-making process in the world.
Throughout the six-day event, students took the part of professional diplomats, engaging in debates on the conference's theme of 'Political responsibility through leadership, innovation and strategic thinking in the XXI century', and received briefings from high-level officials and renowned academics.
The Bristol delegation, which received funding from the Bristol University Alumni Trust, was successful in sponsoring most of the communiqués from the committees that were escalated to the North Atlantic Council (NAC), and its 'Ambassador', Astrid Holzinger, won the award for best position paper in the NAC.
'The access we were given to NATO and the permanent Hungarian delegation was staggering,' said Tom Hoare. 'And an address from Secretary General Rasmussen is rare indeed. The committee sessions themselves were a highlight for us all, and fantastic preparation for the real world of international diplomacy.'