View all news
danceroom Spectroscopy to feature in Cultural Olympiad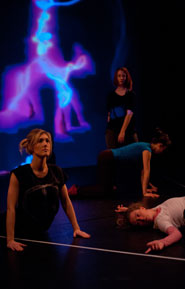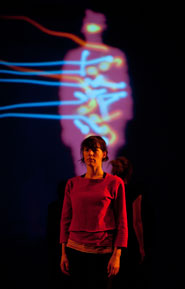 Press release issued: 27 July 2012
A 21-metre 360° projection dome in Weymouth Pavilion will be the venue for a groundbreaking interactive science-meets-art experiment on Saturday 4 August and Sunday 5 August, as part of the Cultural Olympiad.
danceroom Spectroscopy (dS), part interactive art installation, part immersive science experience, part large-scale video game, and part musical instrument, was spawned from the research of Dr David Glowacki, a University of Bristol researcher and Pervasive Media Studio resident.
By combining 3d cameras and bespoke software run on a supercomputer, dS uses rigorous physics to create sounds and images from people's movements, captured and fed into a computer where a program, specially developed by Dr Glowacki's team, interprets them as energy fields. People then see how the movement of their 'energy fields' interacts with a bath of interactive particles.
Dr Glowacki said: "What's it like? Imagine you're a pebble dropped into a pool of water – only the pebble gets to watch itself and the complex ripples and waves it creates. In fact, these sorts of interactions are not too different from what's happening all the time around us, but normally too small for our eyes to see.
"There's also a sonic component: as you move within the space, your energy field causes the particles to slosh and vibrate. The vibrations are sent out to a musician who turns them into electronic soundscapes."
The computer will talk to five projectors hanging from the dome's roof. Combined, the projectors will show how the liquid particle bath changes in response to the motion of people's fields. The result is an ever-changing set of immersive 360° panoramic real-time images and sounds.
Dr Glowacki is working with an interdisciplinary team including fellow PMStudio residents, choreographer Laura Kriefmann, programmer Phill Tew, composer and musician Professor Joseph Hyde, and a team of five professional dancers. Together, they are developing "Hidden Fields", an accessible dance performance that offers a surreal glimpse into how our everyday movement interacts with the hidden energy fields that surround us.
dS will run as an interactive installation on 4 Aug (3-5pm, free); Hidden Fields will show on 5 Aug (7pm, £4).