View all news
University research comes to life in new magazine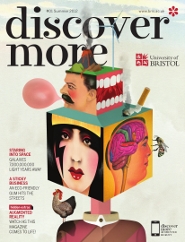 Press release issued: 7 June 2012
Volcanoes erupting from the page of a magazine, cows that smile when stroked and bees which reveal interesting facts when touched – these are just some of the research stories which are being brought to life in an innovative new publication being launched to excite prospective students about higher education.
These interactive elements are courtesy of cutting-edge augmented reality [AR] technology, which enables readers to interact with the magazine through their smart phone. Now it will reach the younger generation in a bid to engage them with university life.
The University of Bristol is the creative brain behind the new Discover More magazine, which is being distributed to sixth forms across the UK to coincide with the start of the summer term.
It's believed to be the first university publication to embrace this new interactive element, combining the sensory experience of the real-world with computer-generated visuals and audio to produce something that 'augments' reality. The new magazine comes hot on the heels of the University's innovative QR code campaign which gained significant attention when it was launched in November last year.
With a punchy and informative mix of news articles and features, Discover More provides A-Level students with an interesting read around their subjects and an insight into the research taking place at the country's leading universities.
One of the AR elements which students can access via their iPhone is a film about volcano research which begins to play when they hover their phone over a photo of an erupting volcano.
An article about how students train to become dentists features a photo of someone smiling, but when a phone is guided over the image it turns into an x-ray of the mouth to show how the teeth make up the jaw.
And, in a more light-hearted use of AR, an article exploring the happiness of farm animals features a large image of a cow which actually smiles when its face is stroked via the iPhone app.
Further AR elements are hidden in an article about how a toxin found in a bee sting could be used in medicine. Bees appear when the reader hovers over a yellow flower and when each bee is touched they turn into an interesting bee fact.
A specially designed cover image moves when looked at in AR, with a volcano erupting, a bubble gum balloon bursting, a chicken pecking and bees flying.
The University has been working to create the Discover More magazine with Immediate Media Co, alongside a focus group of sixth form pupils who helped develop the content and style of the magazine.
David Alder, Director of Communications and Marketing at the University of Bristol, said: "We wanted to provide sixth form pupils with an interesting insight into some of the research carried out at universities like Bristol, and to do so in a way that would be both engaging and fun. The input of sixth form pupils into Discover More has and will continue to be an extremely valuable part of the process."
The magazine is also available as a downloadable app, and there is a Facebook page, 'Discover More magazine' and a Twitter feed @BrisUniDiscover, to further engage with readers.