View all news
Bristol University named among the country's greenest universities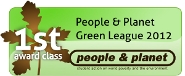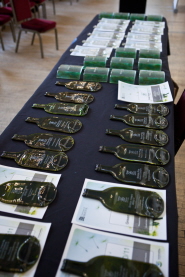 Press release issued: 29 May 2012
The University of Bristol has been awarded a First Class Award for its environmental and ethical efforts – an honour placing it among the greenest universities in the country. It was placed 36 out of 145 in the People & Planet Green League 2012 – the UK's only comprehensive and independent green ranking of universities, which was unveiled today [29 May] in The Guardian.
It was placed 36 out of 145 in the
People & Planet Green League 2012
– the UK's only comprehensive and independent green ranking of universities, which was unveiled today [29 May] in The Guardian.
The award marks a big improvement from the previous year, with Bristol rising 32 places from 68th.
Its success makes it one of the leading universities in the Russell Group, with just Exeter and Newcastle edging ahead in the table.
Bristol University's success in the past year has been credited to the 'creativity and tenacity' of its staff and students, who have implemented many new initiatives to improve sustainability.
It scored maximum points for its sustainability policy, staffing levels, auditing, ethical procurement, sustainable food, staff and student engagement and, new for this year, sustainability and the curriculum.
Among the measures which have helped Bristol achieve a First Class Award are:
£1.5million spent on cutting carbon emissions through insulation, LED lighting and electric movement sensors.
Generating electricity through Photovoltaics (PV) with 165kW of panels on various buildings.
A nine per cent reduction in water use thanks to an upgrade of the infrastructure and an awareness programme.
The staff car sharing scheme has grown by 25 per cent over the past year.
56 per cent of all waste is diverted from landfill and 65 per cent of office waste is recycled.
Around 40 departments take part in the Green Impact Awards each year.
Students can now work towards a Bristol Sustainability PLuS Award, which recognises and rewards those who undertake extra-curricular experiences with a Sustainability focus.
Professor David Clarke, Deputy Vice-Chancellor of the University of Bristol, said: "Research intensive universities can face some of the toughest challenges in reducing their impact on the environment and improving their sustainability due to their varied and often historic estates. These challenges do lead to quite creative approaches and Bristol achieving a First in the Green League is testament to the creativity and tenacity of our staff and students."
The pioneering Green Impact Awards, an innovative scheme developed by the University in 2008 in partnership with the National Union of Students Services Limited [NUSSL], to cut back on its environmental impact, has been rolled out nationally and has since been adopted by over 50 universities throughout the country.
Louise Hazan, who compiled the People & Planet Green League, said: "Congratulations to all the staff and students at the University of Bristol for their role in creating one of the greenest universities the UK has ever seen. Their success in reducing carbon emissions, integrating sustainability throughout the curriculum and finding creative ways to engage staff and students in the transition to sustainability is exemplary.
"National improvements across the People & Planet Green League results this year show universities are listening to the 70 per cent of students demanding greener degrees and that the university sector is leading the way to a low-carbon and sustainable future."
Nationally, the People & Planet Green League table reveals that the university sector has cut carbon emissions for the first time, recording a five per cent reduction compared to 2011 results.
Further information
A scorecard showing full results for Bristol University is available
online
.
The People & Planet Green League is the only comprehensive and independent league table of UK universities ranked by environmental and ethical performance. It is compiled annually by the UK's largest student campaigning network, People & Planet.
In 2012, the People & Planet Green League ranks 145 UK universities – awarding them a First, 2:1, 2:2, Third, or Fail – according to environmental policy, management and actual performance in areas such as carbon reduction, waste recycling, student engagement, green curriculum, energy efficiency, transport emissions, sustainable food, ethical procurement and water consumption. The ranking combines data obtained directly from universities through the Freedom of Information Act with Estates Management Statistics data obtained from the Higher Education Statistics Agency.