View all news
£500,000 funding for research into ash cloud dangers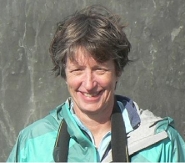 Press release issued: 29 May 2012
The untold disruption caused by the eruption of an Icelandic volcano will come under the spotlight at the University of Bristol thanks to the creation of a new research post to look at the hazards of volcanic ash and how its risks can be managed.
Professor Kathy Cashman, from the School of Earth Sciences, will hold the position of Chair in Volcanology – a role funded by the
AXA Research Fund
, a global initiative of scientific philanthropy.
It's hoped the €617,000 [around £500,000] funding will help to answer key questions about how volcanic plumes form, how they spread and how hazardous they might become.
In 2010, the eruption of the volcano Eyjafjallajökull in Iceland severely disrupted global air travel and highlighted the risks of volcanic eruptions to people across the globe. Fundamental gaps were recognized in the scientific understanding of volcanic plumes, how they are formed, and how their composition might be predicted.
Different particle sizes have dramatically different consequences for jet engine safety, so a better understanding of this will be critical for future risk assessments.
Professor Cashman, a world-leading volcanologist, will lead a programme of research looking at volcanic plumes, conducting experiments using laboratory materials that behave in similar ways to magma.
The novel approach involves considering how the physical characteristics of a volcanic ash cloud depend on an evolving set parameters such as magma composition, temperature and pressure, regional stress field and ice-cap melting.
Professor Cashman, who is also a Philip H. Knight Distinguished Professor of Geological Sciences at the University of Oregon, said: "This is a three year project, during which time we hope to have developed better scientific methods for predicting how volcanic plumes behave. This will help benefit local communities who live near volcanoes, as well as airlines that need to know if it is going to be safe to fly.
"The eruption of Eyjafjallajökull left millions stranded across Europe, and cost airlines an estimated €150 million a day for six days – such figures highlight the importance of this research and the need for a better understanding of the risks."
Her appointment is part of the Cabot Institute, which brings together the University's fundamental and responsive research on risks and uncertainties in a changing environment across science, social science and engineering.
A research day is being held at M Shed today [29 May] to launch the AXA-sponsored Research Chair at Bristol University. The event will explore the multiple facets of environmental risk through the theme of volcanoes and society.
Paul Goswamy, Head of Property & Casualty Risk in AXA UK and sponsor of the chair, commented: "Better understanding of the impact of volcanic eruptions on our societies is crucial to help AXA better cover our clients and thus protect them.
"AXA and its risk management experts will contribute to Prof Cashman's research on volcanic plume mitigation by sharing our insurance expertise. Furthermore, AXA will help Prof Cashman disseminate her discoveries through AXA's worldwide network to enrich the public's scientific knowledge for a better mitigation of volcanic plumes in the world."
Further information
About Prof Katharine Cashman, Chair holder
Kathy Cashman is a volcanologist with a long interest in the connection between chemical processes that control the formation of bubbles and crystals in rising magma, and the physical processes that control volcanic eruptions. At the same time, her early work as Public Information Scientist for the US Geological Survey during the 1980-1986 eruption of Mount St. Helens introduced her to both the challenges and importance of not only improving volcanic hazard assessment, but also developing effective channels of communication to public officials and communities. She has spent most of her career as a professor at the University of Oregon, USA. Her work has taken her to volcanoes around the world to study lava flows in Hawaii and Italy, cinder cone eruptions in Mexico and Oregon, explosive eruptions in Alaska and Ecuador, and eruptions under the ocean in the western Pacific.
About the Cabot Institute, University of Bristol
The Cabot Institute at the University of Bristol carries out fundamental and responsive research on risks and uncertainties in a changing environment. Its interests include natural hazards, food and energy security, resilience and governance, and human impacts on the environment. Its research fuses rigorous statistical and numerical modelling with a deep understanding of interconnected social, environmental and engineered systems – past, present and future. It seeks to engage wider society – listening to, exploring with, and challenging our stakeholders to develop a shared response to 21st Century challenges. Find out more about its work at www.bristol.ac.uk/cabot
About AXA Research Fund
Created in 2008, the AXA Research Fund (AXA RF) provides philanthropic support for research focused on understanding and preventing the risks threatening the environment, human life and our societies. As of 1 May, 2012, Euro 76 million have been committed and the AXA RF has given its support to 291 research projects, implemented in 26 countries by researchers of 47 nationalities.
In the UK, it has so far committed a sum of Euro 10.5 million for various projects. The funds are granted based on a decision by the Scientific Board. By supporting top-tier researchers working on risks all over the world and helping them to share their discoveries, AXA RF tries to enrich the public debate and AXA's own expertise with academic knowledge. Through research philanthropic sponsorship, AXA aims to foster a safer and stronger society over the long term. More details about the AXA Research Fund, including presentation of the supported researchers, of the funding schemes, and biographies of the Scientific Board members, are available on the website www.axa-research.org