View all news
Students' award-winning appetite to help beat food poverty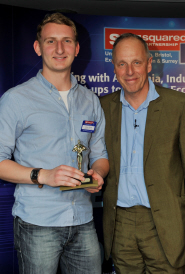 Press release issued: 28 May 2012
A social enterprise run by students at the University of Bristol has won a top award for its efforts to provide free meals for the community from food which would otherwise be thrown away. FoodCycle Bristol, an initiative which helps to alleviate food poverty in the city, was named Best Social Enterprise at the SETsquared Partnership's second annual student enterprise awards.
FoodCycle Bristol
, an initiative which helps to alleviate food poverty in the city, was named Best Social Enterprise at the
SETsquared Partnership
's second annual student enterprise awards.
The winners were chosen from thousands of students at the five SETsquared member universities of Bath, Bristol, Exeter, Southampton and Surrey.
The FoodCycle Bristol scheme, which was established in 2009, has served over 2,000 free meals from its base in the Easton Community Centre, where it operates on a weekly basis.
It has since grown and, in addition to serving free three-course meals to an average of 50 beneficiaries in Easton every Sunday, it now runs a pop-up restaurant which charges £3 for students to ensure the project is self-sustaining. The pop-up restaurant started up in autumn 2010 and has since become well established, operating fortnightly and feeding 120 students.
FoodCycle Bristol is completely co-ordinated by students and volunteers from throughout the community who either help run the kitchen or transport the waste food to the kitchen using bicycle trailers.
With over 500 volunteers, widespread engagement from the community and having registered just under £3,000 profit this year, they are hoping to set up a second community kitchen in the near future.
Adam Smith, Coordinator of FoodCycle Bristol and studying for a Masters in Physics, said: "Winning this award is a testament to the hard work put in by the team of managers over the last year and great recognition for the growth and development of the Foodcycle Bristol project in that time.
"It was fantastic to meet so many vibrant people at the awards evening with such different and great ideas, and it was great to see both staff and students from the different universities working together with common interests."
Guest presenter Simon Woodroffe OBE, founder of YO!, presented the awards and inspired the students by recounting his experience of creating a set of successful businesses under the YO! brand.
Dave Jarman, Head of Enterprise Education at the University of Bristol, said: "I'm really proud of all Bristol's entries this year and it's fantastic to win the Best Social Enterprise category."
He also praised the team behind student-run production company In House Media. Clara Hargreaves (2nd year BA Drama) and Thibault Jeangout (2nd year MSci Environmental Geoscience) were named Bristol University's Student Enterprise Champions.
Further information
Th SETsquared award event is one of the many ways SETsquared supports student entrepreneurship. A full year-long programme of activities includes the Kauffman Global Scholars Program, a Deloitte business pitching contest, Xing business planning and a number of enterprise boot camps. SETsquared is also holding an "apprentice" style trading day at Spitalfields Market called Uni Popshop on June 28th when student teams will compete to see who can make the most profit in one day.
About the SETsquared Partnership
The SETsquared Partnership (www.setsquared.co.uk) is the enterprise collaboration of the universities of Bath, Bristol, Exeter, Southampton and Surrey.
Together, the universities employ 7,400 academic staff; earn nearly 10 per cent of the UK's higher education research budget; and produce 11 per cent of all UK university patents.
The Partnership has a 10-year track record of supporting companies through its innovation centres, which provide access to industry specialists, investors and experienced entrepreneurs. SETsquared currently supports over 250 early stage high-tech, high growth potential businesses, and 88 per cent of its incubated companies are still in business three years on. In the past five years, nearly £0.75bn in investment funding has been raised by spin outs and incubated companies.
SETsquared supports its student population of over 90,000 graduate and undergraduates to gain hands on business skills and entrepreneurial training through experiential inter-university activities. The Partnership also provides opportunities for industry to access academic ideas with commercial potential and develop collaborative R&D relationships. The Partnership seeks to promote the impact, economically and socially, of its institutions' research and enterprise activities.