View all news
Questioning the fundamentals in Afghanistan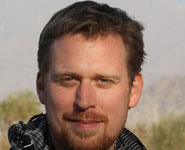 25 May 2012
Journalists covering aid and development in areas like Afghanistan are missing some of the basic questions, according to Dr Karl Sandstrom.
How does supporting warlords help create a stable government? Why are we counting the money spent instead of the good achieved? These are just some of the fundamental questions journalists are missing but should be asking, says Bristol researcher Dr Karl Sandstrom in an online article for the Nieman Foundation at Harvard University.
Dr Sandstrom, from the University's School of Sociology, Politics and International Studies, has undertaken extensive field research in Afghanistan and was commissioned by the Nieman Foundation to help educate the next generation of reporters on these key issues.
Sandstrom spent nine months based in Kabul with travel to Kandahar, Jalalabad, Herat, and Mazar-e Sharif. Most of his research has taken place outside of the military security system and has engaged with a range of actors in the aid and development field.
You can read some of Dr Sandstrom's contributions on the Nieman Foundation website.
Dr Sandstrom, who is currently finishing a two-year research project on the relationship between aid and risk mitigation, also wrote a commentary piece on Afghanistan for The Scotsman recently.