View all news
Trench art features in new WW1 exhibition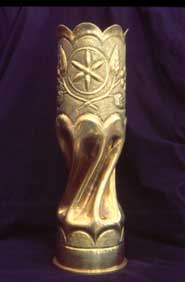 Press release issued: 23 May 2012
Research by Bristol archaeologist Dr Nicholas Saunders into the trench art made by soldiers in the First World War has helped to inform a major new exhibition at the Pompidou Centre in Metz which focuses on one year of that conflict.
1917 addresses the theme of artistic creation in wartime. As well as featuring the work of such famous artists as Pablo Picasso, Christopher Nevinson and Felix Vallotton, it will also include a display of trench art – souvenirs carved from artillery shells, bullet cartridges, wood, bone and other materials by First World War soldiers.
The exhibition, which inaugurates a cycle of events leading up to the commemoration of the centenary of the First World War in 2014, opens on Saturday 26 May 2012.
1917 was a year of extreme diversity in artistic production. The exhibition sets out to convey this by illustrating artists' various positions relative to the battlefront and the multiple forms their work took.
Alongside established artists who drew inspiration from world affairs and the war artists sent to the front to record events, were many amateur artists who felt the need to respond to the trials of war through creative expression, not least through trench art.
Dr Saunders said: "In the First World War, 1917 stands out as a year of extraordinary physical and metaphysical transformation, where landscapes, material culture, people and war experiences became fused in three dimensional artworks.
"Arguably more than any other kind of objects associated with conflict, trench art allows us to explore, analyse, and experience a uniquely sensuous artistic endeavour born out of the confusion and chaos of war and the ironic creativity which flowed from it."
Dr Saunders has also contributed a chapter to the exhibition catalogue 'Transformations. Les Objets, Les Individus, L'Art et La Guerre'. ('Transformations: Objects, People, Art and War') (2012) edited by L. Lebon and C. Garnier.
The exhibition runs from 26 May to 24 September 2012 at the Centre Pompidou-Metz, Galerie 1. Admission: 7€
Read more about Dr Saunders' work on trench art here