View all news
Bristol students to take centre stage at the Olympic Stadium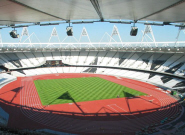 Press release issued: 3 May 2012
Top athletes from the University of Bristol will be among the first sportsmen and women to compete in the Olympic Stadium, testing out the facilities before it becomes the showpiece of London 2012.
A total of 32 Bristol University students are taking part in this once-in-a-lifetime experience, which will be watched by over 40,000 spectators.
There will be 1,200 competitors from universities across the country, all keen to triumph in this year's British Universities and Colleges Sport (BUCS) Outdoor Athletics Championships which begins tomorrow [4 May].
The championships are a London 2012 test event as part of the London Prepares Series – a sports testing programme which allows organisers to have a trial run ahead of the Games, while also giving top athletes the chance to compete in London's new and existing iconic venues.
Construction of the Olympic Stadium began in May 2008 and was completed in just under three years, with the final piece of turf laid in March 2011. The final cost of the centrepiece East London venue is reported to be £537 million.
John Brierly, captain of the University of Bristol Athletics Club, said: "Competing in front of 40,000 people will be an unbelievable experience and the whole club is extremely excited to be amongst the first people to run in the Olympic Stadium. It's one of those once in a lifetime opportunities and for many of us it will be the peak of our athletics careers."
Tipped for success are hammer thrower Andrew Jordon, an England U23 silver medallist, and Rainer Groh, who is defending his long-jump crown.
Both are members of Bristol University's High Performance Squad, an elite group of students who have competed at regional level or above.
Matt Paine, Sports Development Officer for Performance, is among a group of 55 people travelling to the Olympic Stadium to support the University's squad.
He said: "It's amazing for many people to even enter the stadium so the excitement felt by our athletes is overwhelming. It's been such a good incentive for them too, knowing that this opportunity has been on the horizon. Not many people will be able to say that they've competed in the Olympic Stadium and had the chance to use the same facilities as the world's elite athletes."
The BUCS Visa Outdoor Athletics Championships are the climax of Universities Week, which this year looks at the contribution universities make to the Olympic movement, the sports industry and society as a whole.
Karen Rothery, Chief Executive Officer of BUCS, added: "British Universities and Colleges Sport's vision is to enhance the student experience through sport – what better way could there be than competing in the Olympic stadium itself during Universities Week? And Britain's students will be able to do just that. Sport is taking centre stage in the UK and is enjoying its highest profile for many years. This week is an amazing opportunity for BUCS student athletes, their friends and families and the broader communities to show how their lives are improved by taking part in sport."
Further information
Full list of competitors from Bristol University:
Men: 100m: Jack Podmore. 200m: Steve Best. 400m: Ben Winstanley. 800m: Andrew Woods. 1500m: John Ashcroft. 5000m: Chris Dodd and Max Kiralyfi. 10000m: Matthew Deacon. 110m Hurdles: John Brierly and Oliver Jefferies. 400m Hurdles: Will Hartley. 4 x 100m Relay: Adeolu Dada, Christoph Hirche, Kristian Stanley and Dan Richards. 4 x 400m Relay: John Brierly, Will Hartley, Joe Thornton and Ben Winstanley. High Jump: Charlie Hawkes. Long Jump: Rainer Groh. Triple Jump: Jeson Jacob. Javelin: Luke Edwards.
Women: 200m: Emma Titcomb. 400m: Emily Milodowski. 800m: Hannah Pollak. 1500m: Aoife Kelly and Grace Geilinger. 5000m: Gwenno Brown. 10000m: Caitlin Lloyd. 100m Hurdle: Emma Titcomb. High Jump: Abby Dalziel. Long Jump: Audrey Lailheugue. Javelin: Ashley Frost.