View all news
Evan Wright, 1924-2012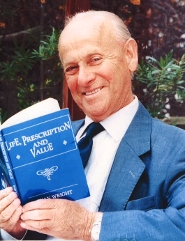 1 May 2012
Evan Wright, Registrar of the University of Bristol from 1973 to 1988, died on Easter Sunday 2012 at the age of 87. Michael Parry, who succeeded him as Registrar, offers this tribute.
Evan Cyril Wright was born into a Methodist fishing family at Fleetwood, Lancashire on 12 May, 1924. Educated at Fleetwood Grammar School, he went on to the University of Liverpool but left in 1943 after only one year to join the Navy. His service was largely in small vessels and he commanded a landing craft off the beaches of Normandy during the D-Day landings.
At the end of the war he left the Navy with the rank of Lieutenant RNVR and went on to Magdalen College, Oxford, where he read Philosophy, Politics and Economics. Following his graduation, he joined the administration of the University of Oxford as Graduate Assistant and, more importantly, met his future wife Mary Alblas, a Dutch girl then working as a children's nurse in this country. They married in 1951, a few months after his appointment as Assistant Registrar and Secretary at the University of Bristol.
Wright was soon promoted and climbed the ranks to Deputy Registrar and Secretary. When his predecessor H C Butterfield retired in 1973, Wright was duly appointed Registrar and Secretary, an appointment he held until his retirement in 1988. He received an Honorary MA of the University in 1984.
Those are the bare bones of Evan Wright's career, but they say little of the man other than that he was successful in his chosen profession. He was more than that. He had a phenomenal memory and a close eye for detail, two traits to be welcomed in an administrator. He was a man of few words but he listened carefully and what he said was always to the point and helpful. He was kind and he had a developed sense of justice. His judgement was sound and his advice almost always right. He ran a lean and hard-working administration, believing that what funds the University had at its disposal were best concentrated on its academic activities. He encouraged close contact between academic and administrative staff and had many friends in the academic departments.
As a young man he used to open the batting for the Academicals Cricket Club. Later in life, after his retirement, he was a regular member of the group, largely composed of Emeritus Professors, which used to meet for coffee at the Guild in Park Street and it was there that he was persuaded to re-work his undergraduate dissertation and to publish it under the title 'Life, Prescription and Value'.
It is worth concentrating for a moment on two major tasks that Evan Wright faced during his career, for they illustrate his qualities. The first concerned the student unrest that spread from the Sorbonne to Bristol and other British universities in 1968, culminating in a week-long occupation of the Senate House.
Wright was deeply engaged in bringing the occupation to an end and with dealing with its aftermath, as he was on a later occasion when the troubles with the printing unions at Wapping spilled over into Bristol. He drew a clear line between areas of legitimate student concern and the use of student idealism by outside parties for their own ends. He became an expert in the use of the law in the event of sit-ins and his advice was drawn upon widely by colleagues elsewhere.
The other relates to his role in drawing together and ensuring the implementation of the cuts between 1981 and 1984 occasioned by a 15 per cent reduction in the University's funding. What had to be done was done, within the general parameters laid down by Sir Alec Merrison. That it was done effectively and fairly is in a large part attributable to Evan Wright. The University owes him much.
He was a family man, devoted to Mary and his two daughters. He was a frequent visitor to Holland, staying with his wife's family and practising, although perhaps never quite mastering, his Dutch. Following his retirement he loved to travel. He was Chairman of Relate for some years and was involved with the University Settlement.
Evan Wright was a loyal servant of the University and continued to be so well into his retirement, as a Convocation representative on Court and as Chairman of the Manor Hall Committee. He was proud to have been so for more than 50 years.
He leaves his wife, Mary and his two daughters, Anne and Susan.