View all news
Marathon effort raises £35,000 for Bristol University's Cancer Research Fund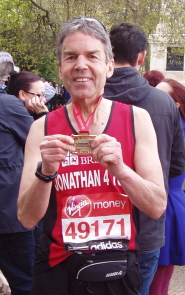 Press release issued: 30 April 2012
Eight former University of Bristol students conquered the London Marathon to raise an impressive £35,000 to help in the battle against cancer, including one brave runner whose efforts inspired more than £17,000 in sponsorship.
Dr Jonathan Nicholls' (BA 1978) endeavours were prompted by the heartbreaking diagnosis that his close friend Dr Tony Rich, the University of Bristol's recently retired Registrar, has incurable cancer.
He completed the gruelling 26 miles course around the capital in four hours and 49 minutes, an achievement which has generated valuable funds for Bristol University's Cancer Research Fund, which supports vital research into cancer prevention and treatment.
Dr Nicholls, who works as Cambridge University's Registrary, said: "It was an unforgettable occasion and an achievement I shall always feel proud of. It was particularly emotional to see Tony on Tower Bridge with members of his family and to be able to shake his hand about half way through the race.
"I didn't know what to expect in the latter stages of the race and it is fair to say that the miles through the Isle of Dogs and Canary Wharf were the toughest. But emerging onto the Embankment again with the crowds and noise just gave me a fantastic lift. The London Marathon is about the extraordinary power of good will - from the runners, the amazing spectators, and from the volunteers who make it all happen."
Dr Rich started work as Registrar and Chief Operating Officer at the University of Bristol at the end of the 2010/11 academic year, having previously worked as the Registrar and Secretary of the University of Essex since 1999, but retired recently due to ill health.
Dr Rich added: "I was delighted to be able to get to London to watch the runners cross Tower Bridge, with the highlight being greeted by Jonathan. It was a tremendous achievement to run his first marathon in such a disciplined manner and to raise so much money for Bristol's cancer research. I am enormously appreciative of the efforts of my very old friend."
Bristol's Cancer Research Fund supports research of international importance into cancer prevention and treatment. Research is undertaken into many aspects of the major cancers including breast, bowel, laryngeal, oral, prostate cancers and leukaemia.
Grants are awarded to cancer researchers to buy laboratory consumables or small pieces of equipment. These grants give young researchers the opportunity to work towards the crucial preliminary results that will enable them to gain larger project grants from major medical research funding bodies.
Professor Harry Mellor, Head of the Cancer Research Fund, said: "I am overwhelmed by the achievement of our marathon runners. The stories behind this fundraising illustrate how personally cancer affects most of us. This money will make a significant contribution to world-class cancer research here in Bristol. On behalf of the University Cancer Research fund I would like to extend my heartfelt thanks to our runners and their many supporters."
For further information on the eight Bristol alumni runners who took part in the London Marathon, or to support Bristol's Cancer Research Fund, please visit the Campaign and Alumni Relations website.