View all news
Mockumentary mission to North Korea beckons for budding filmmaker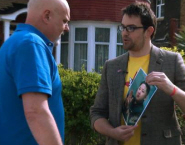 Press release issued: 25 April 2012
A budding Bristol filmmaker, who hopes to travel to North Korea for a tongue-in-cheek challenge to hug the communist state's new supreme leader, is down to the final six in an exciting competition to win €50,000 funding for his mockumentary idea.
Ted Wilkes, who works at the University of Bristol's Students' Union, has reached the final stages of
The Digital Comedy Lab
– a project that aims to uncover and develop the very best fresh comedy talent in the UK and Ireland.
He faces competition from five other UK finalists but hopes his ambitious idea to head deep into the Democratic People's Republic of Korea on a mission to embrace Kim Jong-Un, the world's youngest head of state after the death of his father Kim Jong-il in December, will win over the judges.
The two winning projects, one from the UK and one from Ireland, will be announced on May 31.
Should 'Embracing Kim' win the competition, Ted will receive €50,000 worth of funding and support from The Digital Comedy Lab, which will assist him with training, script development, production financing and distribution.
The ultimate goal is for it to follow in the footsteps of other successful films and TV programmes in the mockumentary genre, such as The Office, Clerks, Napoleon Dynamite, Anchorman, This is Spinal Tap and Borat.
Ted, who is a Sports Participation Coordinator, said: "As a film graduate I really wanted to use everything I'd learnt as part of my degree and came up with the pitch for 'Embracing Kim'. Several hundred people entered the Digital Comedy Lab competition so I was really over the moon to reach the final stages.
"The idea behind 'Embracing Kim' is that we believe a simple hug will show the new leader the real affection the western world has for him, thus ending the hostility he's likely to feel towards the outside world.
"Should the pitch be successful then we will visit the embassy in Ealing disguised as a council flat, practice our cuddling at a top London cuddle party and get into North Korea any way that we can. Once there we will masquerade as a bunch of dim witted pro-Democratic People's Republic of Korea tourists who just want to give Kim a cuddle. It's a far-fetched plan, but that's the beauty of the mockumentary genre."
Ted pitched his idea via a YouTube video and has now made a five minute promo so that the judges can have a taste of what the final film would be like.
The Digital Comedy Lab is run by beActive, an award-winning production company with offices in Lisbon, Dublin, London and São Paulo in Brazil.
Nuno Bernardo, Co-founder and CEO of beActive, said: "The Digital Comedy Lab is a talent discovery initiative unlike any other. It is a training and production programme created with the industry's current demands, economics and audience tendencies in mind. We fully believe that the UK and Ireland have the talent to create an international digital comedy movement and we hope this will be the start of a comedy revolution."