View all news
Professor Kathy Cashman elected to AAAS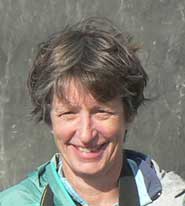 25 April 2012
Kathy Cashman, AXA Professorial Research Fellow in the School of Earth Sciences and Philip H. Knight Distinguished Professor of Geological Sciences at the University of Oregon, has been elected to the American Academy of Arts and Sciences (AAAS).
Professor Cashman, whose research has shed light on the nature and predictability of volcanic eruptions, is among 220 newly elected AAAS members, including the palaeomagnetist Dennis Kent, André Previn, Paul McCartney and Hillary Clinton. Academy members are international leaders from academia, business, public affairs, the humanities and the arts. Considered one of the United States' most prestigious honorary societies, the academy is also a leading centre for independent policy research.
Professor Cashman arrived at Mount St Helens shortly after the 1980 eruption as a member of the US Geological Survey's Cascades Volcano Observatory. Her studies have focused on the textures in volcanic rocks, studying the size and density of holes left after the passage of gas through magma and lava, as well as crystal sizes and crystallisation rates.
Professor Cashman took up her three-year position at Bristol University in September 2011. She has also served on several national and international panels and committees dedicated to volcanic processes and hazards.
Professor Mike Kendall, Head of the School of Earth Sciences, said: 'This is a great achievement, which recognises Kathy as one of the very best volcanologists in the world. We are very proud of her.'
More details about the appointment are available on the AAAS website.