View all news
New book explores the visual in sport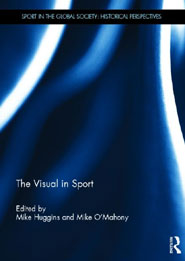 5 March 2012
The representation of sport in visual culture is the subject of a new collection of essays, edited by art historian Dr Mike O'Mahony of the University of Bristol and Professor Mike Huggins of the University of Cumbria.
The Visual in Sport brings together leading international authorities from the history of sport, social history, art history, film history, design history, cultural studies and related fields to explore the ways in which visual culture has shaped, and continues to impact upon, our understanding of sport as an integral element within popular culture.
Dr O'Mahony said: "Visual representations of sport have previously been little examined and under-exploited by historians, with little focused and rigorous scrutiny of these vital historical documents.
"This book seeks to redress the balance by engaging with a wide variety of cultural products, ranging from sports stadia and monuments in the public arena, to paintings, prints, photographs, posters, stamps, design artefacts, films and political cartoons."
By examining the contexts of both the production and reception of this historical evidence, and highlighting the multiple meanings and social significance of this body of work, The Visual in Sport provides original, powerful and stimulating insights into the ways in which visual material assists our knowledge and understanding of sport.
The book includes essays on a wide range of subjects including the football ground and visual culture, visual representations of women in the modern American stadium, the visual culture of horse racing in Renaissance Italy, and revolution, art, and the representation of sport in Cuban visual culture.
This collection will facilitate researchers, publishers and others with an interest in sport to move beyond traditional text-based scholarship and appreciate the powerful imagery of sport in new ways.
The Visual in Sport, edited by Mike Huggins and Mike O'Mahony is published by Routledge.
A genuinely inter-disciplinary work that will form the starting point for much new thinking about sport and the visual - Professor Dave Russell, Leeds Metropolitan University.
Mike Huggins is Professor Emeritus of Cultural History at the Ambleside Campus of the University of Cumbria. He has published many books, chapters and articles on the history of sport and leisure in the nineteenth and twentieth centuries.
Mike O'Mahony is Senior Lecturer in Art History at the University of Bristol. His recent research has focused on representations of sport and physical culture in official and unofficial Soviet art, and he is now exploring the representation of sport and the Olympic Games in visual culture.