View all news
Bristol professor contributes to Longman's Poems of Robert Browning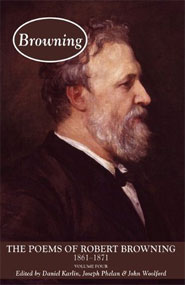 2 March 2012
Daniel Karlin, Winterstoke Professor of English Literature at the University of Bristol has recently had his contribution to a multi-volume edition of the poetry of Robert Browning (1812-89) published in the prestigious Longman Annotated English Poets series.
Volume 4 of The Poems of Robert Browning, jointly edited with John Woolford of the University of Manchester and Joseph Phelan of De Montfort University, covers Browning's poetry from 1862 to 1871 (with the exception of The Ring and the Book, Browning's longest poem, which will occupy a volume of its own).
This volume contains some of Browning's most famous dramatic monologues, including 'Caliban upon Setebos' and 'Mr Sludge, "the Medium"', and two long works, Balaustion's Adventure and Prince Hohenstiel-Schwangau, Saviour of Society. These major poems demonstrate Browning's astonishing range of subject matter and tone: the first a highly original translation/adaptation of Euripides' Alcestis, the second a mordant satire on the career of Napoleon III.
The poems are presented in the order of their composition and in the text in which they were first published, giving a unique insight into the origins and development of Browning's art. In keeping with the tradition of Longman Annotated English Poets, full and informative annotations and headnotes provide details of composition, publication, sources and contemporary reception.