View all news
Victorian doctors of Victoria Square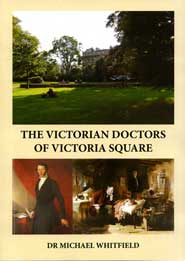 24 February 2012
Dr Michael Whitfield, Senior Lecturer in General Practice at the University of Bristol from 1985 to 1997 and a family doctor for more than 30 years, has published a fascinating account of the experiences of 26 local nineteenth-century doctors living in Victoria Square, Clifton.
Drawing on local newspapers, doctors' publications and information from some their descendants, the stories illustrate many of the characteristics of professional men in the Victorian era. Some of the physicians and surgeons held important positions in Bristol hospitals, but all were involved in developments in medicine that have contributed to present-day medical practice.
The book tells how blood-letting was gradually replaced by a more scientific approach to treatment; how a generalist approach to problems was followed by an increase in the use of specialists; and how public health and occupational health initiatives helped shaped the way we look at health.
Dr Whitfield said: 'During my time as a GP in Clifton, I often wondered what it must have been like to work as a doctor in Victorian times. Undertaking this study in a part of the city I know well has been a thrilling experience. I have had the opportunity of comparing the lives of 26 doctors with my own experiences at the end of twentieth century – some of which are inevitably very different.'
The Victorian Doctors of Victoria Square (Whitfield Publishing), price £9.95, is available from Bristol Museum and Art Gallery, M Shed and from bookshops. Staff and students of the University of Bristol can obtain copies at the discounted price of £8.00, including postage, direct from Dr Michael Whitfield; email mikewhitfield@blueyonder.co.uk.