View all news
Dyson bursary to fund research into developing robotic tools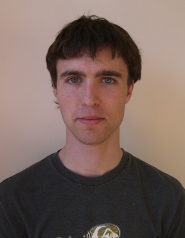 Press release issued: 9 January 2012
Research into how robotic tools could help humans perform everyday tasks more efficiently is being carried out by a Bristol University student thanks to a bursary from the James Dyson Foundation worth £75,000.
Although tools have been used by humans since the Stone Age, at the moment they are still fundamentally inanimate objects and the skill lies with the person using it.
PhD student Austin Gregg-Smith is looking at how the high-tech tools of the future can be created, using robotic technology to enable them to mimic human skill and provide accurate help with everyday tasks in various industries.
Austin Gregg-Smith was awarded the money for his PhD studies over three years as part of an initiative spearheaded by the James Dyson Foundation educational charity to encourage young people to pursue their interests in the fields of design, science and engineering at postgraduate level.
The funding forms part of a £1million donation to the UK's top design and engineering universities, with bursaries being awarded to those who demonstrate a passion for engineering, enthusiasm for the research topic and financial need.
Bristol University has received £225,000 for students undertaking PhDs and Austin is the first aspiring engineer to benefit from the new scheme.
The 23-year-old previously studied for a degree in mechanical engineering at Bristol and will now spend three years looking at the relatively under-researched area of cognitive robotic tools, under the guidance of Dr Walterio Mayol-Cuevas in the Department of Computer Science.
Advances in robotic technology - such as head mounted displays for augmented reality and gaze tracking - mean that tools have the potential to understand the task that is being performed and to work cooperatively with the user to achieve it, in many cases improving the final result.
This new principle could be applied to all avenues of work, from the building trade to medical equipment.
Austin explained: "Tools would be trained by an expert on how to carry out the task which would then be recorded and used to guide less experienced users. Robotic tools could also have the ability to augment human perception by using specialised sensors to detect things which are not normally visible.
"I was really pleased to be chosen for a James Dyson Foundation bursary and the funding has definitely helped me to continue my studies at Bristol. I'm really excited about the project and hope that my research will prove the concept of cognitive robotic tools and one day lead to the design and production of new products."
The UK produces only 24,000 engineering graduates a year, compared to 300,000 in China and 450,000 in India. The James Dyson Foundation tries to encourage young people to take up engineering to keep Britain competitive.
James Dyson said: "Studying design and engineering is costly. But it's vital. We don't produce enough engineers to get the country out of economic doldrums with new technology. The challenge is ensuring the best don't drop out in favour of banking careers."
Bristol's engineering heritage is world famous, and the city continues to be an international leader in the field. The University's Faculty of Engineering has spent over £25million on infrastructure and laboratory equipment, which keeps it at the forefront of teaching and research.
Professor Majid Mirmehdi, Head of the Graduate School of Engineering at the University of Bristol, said: "It is a great privilege for our faculty to be associated with such an imaginative and innovative organisation as Dyson. The bursaries from the James Dyson Foundation will help us engage and train some of the UK's most promising young engineers, and this is already evident in Austin's dedication and enthusiasm for his PhD studies."
Further information
The James Dyson Foundation
The James Dyson Foundation is committed to encouraging young people into careers in design engineering. The registered charity provides free resources for design and technology teachers, as well as working in universities and schools throughout the UK and internationally. It's also behind the James Dyson Award, a student design and engineering award running in 21 countries.